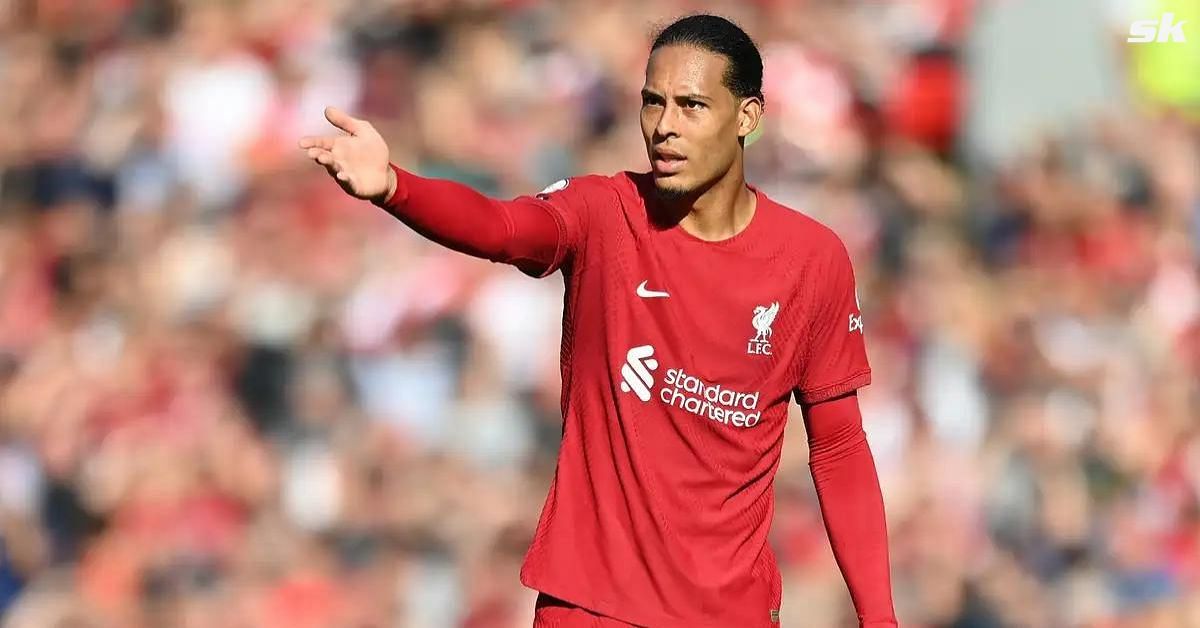 Liverpool's stalwart defender Virgil van Dijk held nothing back as he expressed his concerns about the uphill battle that lay ahead for them against Real Madrid.
The Reds were handed a humbling 5-2 defeat by Los Blancos in the first leg of their UEFA Champions League Round of 16 clash at Anfield on February 21.
The Dutchman admitted that they now face an "almost impossible job" to turn things around. However, he also defended the team, despite their shock defeat to Real Madrid.
The loss marked the first time the Reds have ever conceded five goals at Anfield in European competition. It also leaves their chances of progressing to the quarter-finals dangling by a mere thread.
With the second leg looming at the Santiago Bernabeu on March 15, Van Dijk is under no illusions as to the enormity of the task that awaits his team. Speaking after the game, the towering centre-back said (via The Athletic):
"We have almost an impossible job in Madrid in three weeks' time, but when the time is right, we'll focus and we'll give everything to represent the club as good as we can. The only thing we can do is watch it, learn from it and make sure it doesn't happen in the next game we play, which is Crystal Palace."
He claimed that Liverpool need to focus on their earlier wins this month and not panic:
"It sounds pretty easy but it isn't — that's the hard reality. If you look back in the last two games, we played well (beating Everton and Newcastle) and that's something we should focus on as well and don't be in panic."
Image: Liverpool fans stayed in the stadium after the game and clapped for the Real Madrid players. Real Madrid fans also chanted 'Liverpool, Liverpool' as a show of respect. pic.twitter.com/g7t0tYvFPS

— Los Blancos Live (@TheBlancosLive) February 22, 2023
The Liverpool defender continued:
"Obviously we are all disappointed we lost, that is how we should be, but the way we lost, almost not giving ourselves a chance in Madrid, is tough."
Van Dijk acknowledged the mistakes that were made against Real Madrid, but argued that his teammates are not robots, and mistakes are normal:
"They have quality players all over the team, they can punish you and punish mistakes that you make and that's what they did, especially in the second half. It's pretty clear to see (we made) mistakes that we shouldn't make but it happens in football. We're not robots."
He continued:
"I think we were rushed at times and lost the ball in difficult moments and they have the pace and quality to punish us and they were fantastic. It is something we have to deal with as a group."
---
Liverpool defender Virgil van Dijk reveals feelings in the squad, following the shock loss to Real Madrid
The Liverpool defender pushed for his teammates to stick together, revealing that there was anger and disappointment after the Real Madrid loss:
"It's not been the easiest season so far but the only way to get out of it is to stick together and that's the message —even now. Everyone is angry, everyone is obviously disappointed, but the next game is in four days, so if we want to perform there we have to quickly change the switch and that's what we're going to do."
Goals from Darwin Nunez and Mohamed Salah gave Liverpool the lead at Anfield. However, a brace each from Vinicius Jr. and Karim Benzema and a goal from Eder Militao secured the win for Real Madrid.