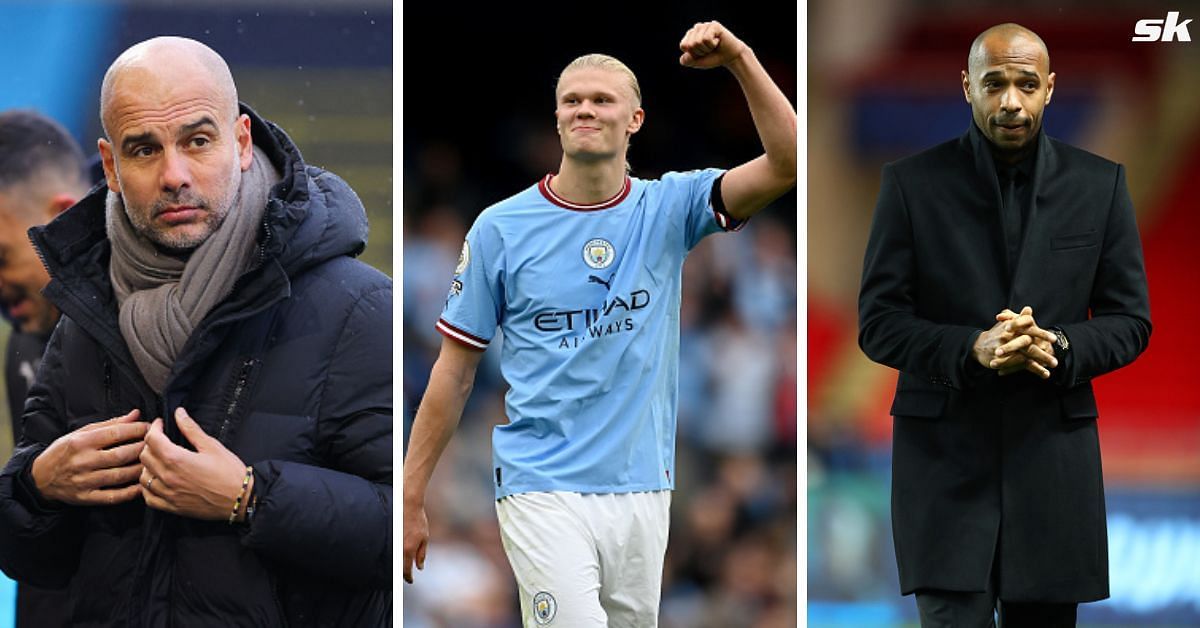 Manchester City manager Pep Guardiola has responded to Arsenal legend Thierry Henry's claims about Erling Haaland making his side more predictable. While the Spanish boss understands where the Frenchman is coming from, he disagrees with his views.
Guardiola said ahead of Manchester City's last-16 clash against RB Leipzig in the UEFA Champions League (via Manchester Evening News):
"I would say that I understand exactly what Titi [Henry] wants to say the fact we play and we put the balls to Haaland. Being less predictable does not depend on Haaland, it depends on the way we can make the process to arrive in different channels to the final third, not just with Erling."
The Manchester City manager went on to explain why midfielder Bernardo Silva played at left-back in his side's 1-1 draw against Nottingham Forest last weekend (18 February). Guardiola added:
"The people say: 'Ah we concede a goal in the left side because Bernardo is playing there,' but the people don't realize. And I understand the view is something like left-back defending that position, Bernardo helps us do what we have done against Nottingham Forest. Without Bernardo, it would not be possible to concede one counterattack, one or two actions at the end."
Despite being deployed as a defender in the encounter, Silva did manage to find the back of the net for Manchester City. The match ended in a costly 1-1 draw that saw the Cityzens drop down to second place in the league table, allowing Arsenal to move back to the top.
"I'm not stupid" – Manchester City boss further explains why his side is not 'predictable'
Guardiola also explained his decision to play Silva as a left-back and his philosophy on how Manchester City are, in fact, unpredictable under his management. The Spanish boss said:
"To be less predictable, we need more runs from Kevin, more runs from Gundogan, more runs from the wingers, we need more runs when we arrive in the final third but to arrive in the final third we need the process."
"I'm not stupid to say that Bernardo's a full-back but he can do it because he's so intelligent, he's so clever. One against one he is a really good defender. With the ball, he helps us to do the special way we want to play. That's why I play him in that position."
Pep Guardiola: "De Bruyne and Laporte are both ill — that's why they won't be able to play tomorrow". ⛔️🔵 #MCFC

"Bernardo Silva? I'm not stupid to say Bernardo is a left-back, but he can do it as he's also a good defender. We have done it in the past with Zinchenko and Delph". pic.twitter.com/gL8jlaKWgK

— Fabrizio Romano (@FabrizioRomano) February 21, 2023
Guardiola concluded:
"For the other ones the way we play in Europe and the Premier League, we play really good. We have these types of players that make our game not predictable. Come on, we scored 60 goals, 26 goals, we are the team that scored more goals in the Premier League. Always we can do good things and with Erling as well."
Despite much debate over whether Haaland's presence has been deceptively harmful to Manchester City, the Norwegian striker has been in extraordinary form this season. He has racked up 26 goals in 23 Premier League appearances this term and is on track to win the Golden Boot.