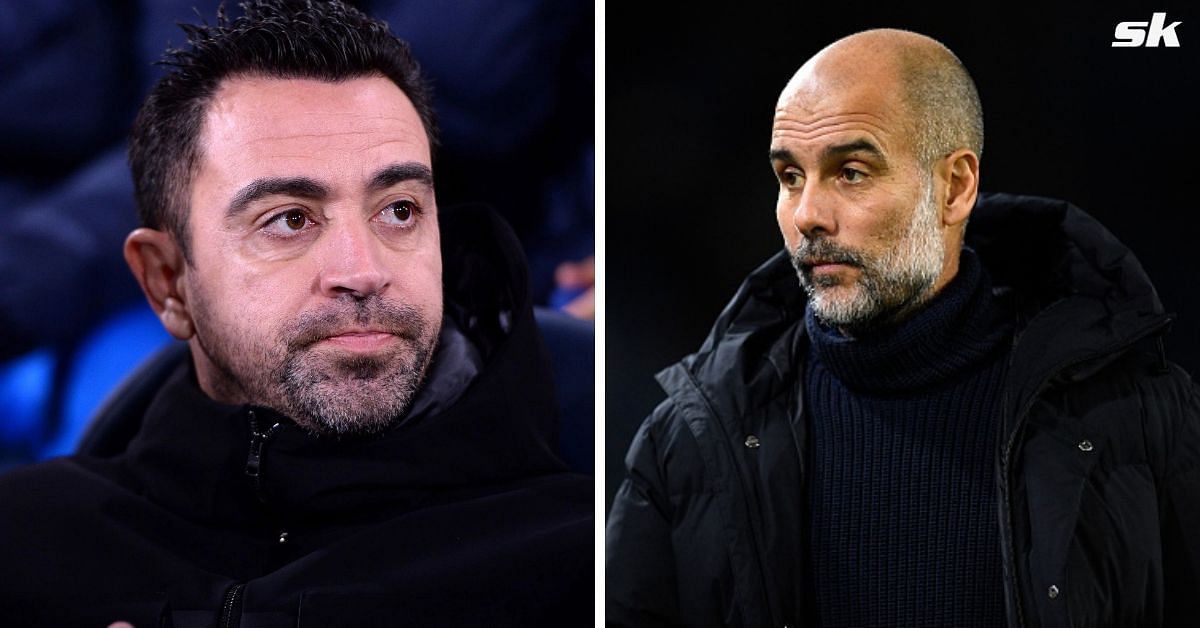 Barcelona manager Xavi Hernandez has heaped praise on Manchester City boss Pep Guardiola, who he played under during Barca's golden era. Having learned under the City boss, Xavi returned to Camp Nou as amanager to right the flailing ship but things are now looking up for the Catalan giants.
Speaking to The Times, the Barca manager made it clear that Guardiola's quality was indisputable. Calling the Spanish tactician a genius, he said:
"Guardiola is the best coach by far. I played under him and the difference with all the other coaches, and I include myself, is a huge chasm. Pep is a genius in every sense of the word. He's not human, he's different, absolutely different, it's oversize."
"I've had him as a team-mate and as a coach, and I'm not surprised by anything he has achieved in England, because I knew he would make it."
During his playing days, Xavi made history alongside the legendary Guardiola. From 2008 to 2012, Barca won their first treble and two Champions League titles under Guardiola's astute leadership.
Following Guardiola's departure, the Blaugrana have struggled to recapture that magic. Six full-time managers, financial incompetence, and a host of boardroom woes had left many fans yearning for the good old days, and the return of Guardiola himself.
However, the club chose to put their faith in Xavi, a homegrown talent with the potential to usher in a new era of success.
The Catalan duo cut their teeth in Barcelona's prestigious La Masia youth academy and inherited Johan Cruyff's footballing philosophy. It is little surprise that, as former central midfielders, both managers utilize possession as the cornerstone of their coaching methods.
Xavi's individual brilliance cannot be overstated and his mastery of Barcelona's iconic tiki-taka style earned him a place among the greatest midfielders of all time. Now the Spaniard is at the helm of the club and Barcelona fans will be hoping for a return to the glory days.
---
Barcelona prepare to face Manchester United in Europa League
Barcelona are gearing up for a crucial clash against Manchester United as they look to secure their place in the Round of 16 of the UEFA Europa League. The Spanish giants are set to clash against the Red Devils in the second leg of their knockout playoffs tomorrow (23 February).
The first leg, which took place at Camp Nou last week, was a nail-biting affair that ended in a thrilling 2-2 draw. As they head into the reverse fixture at Old Trafford, both teams know that there's everything to play on Thursday.