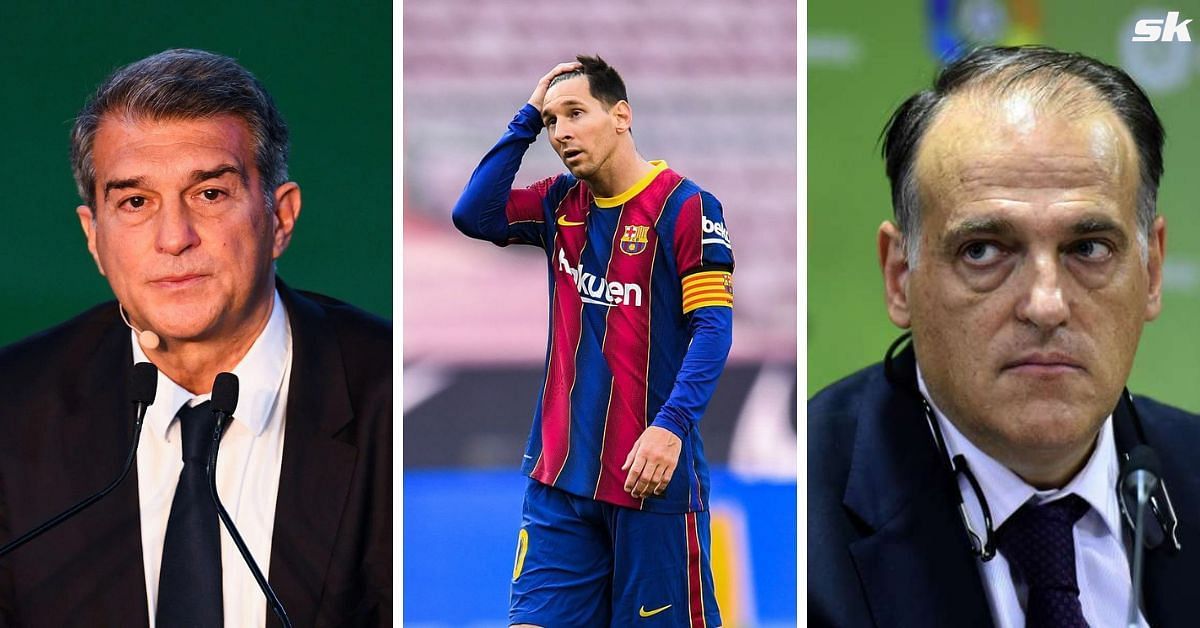 Barcelona president Joan Laprota has hit out at La Liga president Javier Tebas, claiming he didn't want Lionel Messi to play for the Catalan giants.
Tebas and Barcelona have been at loggerheads as the club believe the La Liga rules are becoming too strict. They want the rules to be softened but the league president is adamant about following the rules to ensure a sustainable environment for all clubs.
Speaking at Camp Nou, Laporta claimed he was warned about Tebas attacking the Catalan side and promoting a campaign against them. He said:
"I would also like to say that Mr. Tebas has already come to the fore again. Some had already warned us that Tebas seemed to be promoting a reputational campaign against Barça and against me. The mask has come off."
He added that the La Liga president was against Messi playing for Barcelona. Laporta added:
"I remember that he is a person who in his career has already demonstrated his animosity towards Barça. Back in 2005, he didn't want Messí to play for Barça. He does not forgive us for not signing the agreement with CVC."
He continued:
"I will not give Mr. Tebas the pleasure of ceasing to be president of Barcelona. That is for the members to decide. Anyone who tries to tarnish the history of Barcelona will receive a strong response. What we have achieved has taken a lot of hard work. Therefore, as president, I will not allow such attempts to tarnish our history."
Javier Tebas on Lionel Messi leaving Barcelona
Javier Tebas admitted that Lionel Messi leaving Barcelona was a blow to the league. He claimed that Neymar and Cristiano Ronaldo moving away from La Liga also had an impact, but the Argentine leaving was traumatic.
He was quoted by Mundo Deportivo as saying:
"It's evident that we always want to have the best in La Liga. Neymar left, Cristiano left and now Messí has gone. It has been a traumatic exit because for a month, all has been well, and it fell through late on. It hurts that Messí has left but we are working very hard to ensure the (TV) rights don't fall."
Lionel Messi has been linked with a move back to Barcelona with his PSG contract expiring soon.