RGPS Horseshoe Tunica Stop in March Will Feature $200,000 Guaranteed Main Event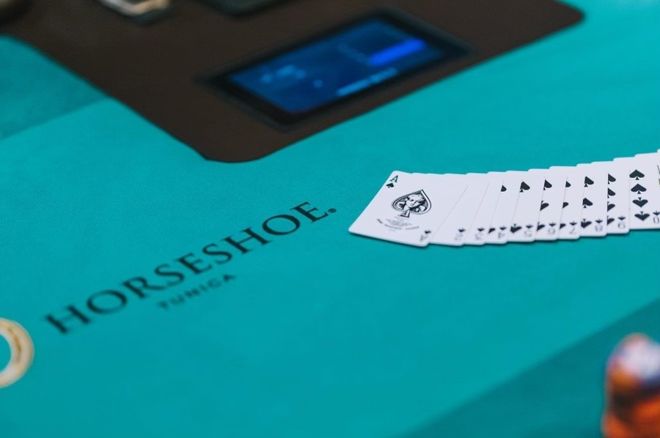 There are no breaks for the award-nominated RunGood Poker Series (RGPS) team as they head to Mississippi later this month for RGPS Horseshoe Casino Tunica taking place Feb. 28-March 5. Not only that, RGPS Bay Area also takes place at Graton Casino in the Bay Area Feb. 28-8.
And with all of this happening, the RGPS team has once again been nominated for "Best Mid-Major" at the annual Global Poker Awards, while RunGood founder Tana Karn is also in the running for for "Industry Person of the Year."
The RGPS Tunica "Checkpoint" stop will feature several Ring Events and will culminate with the $200,000 guaranteed $200 buy-in RGPS Tunica Main Event scheduled to run March 3-5.
Mississippi Grind
The RGPS Tunica stop will kick off with a $200 Seniors Ring Event on Feb. 28, followed by a $165 Opening Night Guest Bounty Ring Event the same day. There will also be several $165 Flip & Go Ring Events running on demand, the first of which gets underway on Feb. 28.
The next day, the two-flight $250 DeepStack Ring Event will get underway as players complete for an RGPS ring and the lion's share of the $50,000 guaranteed prize pool.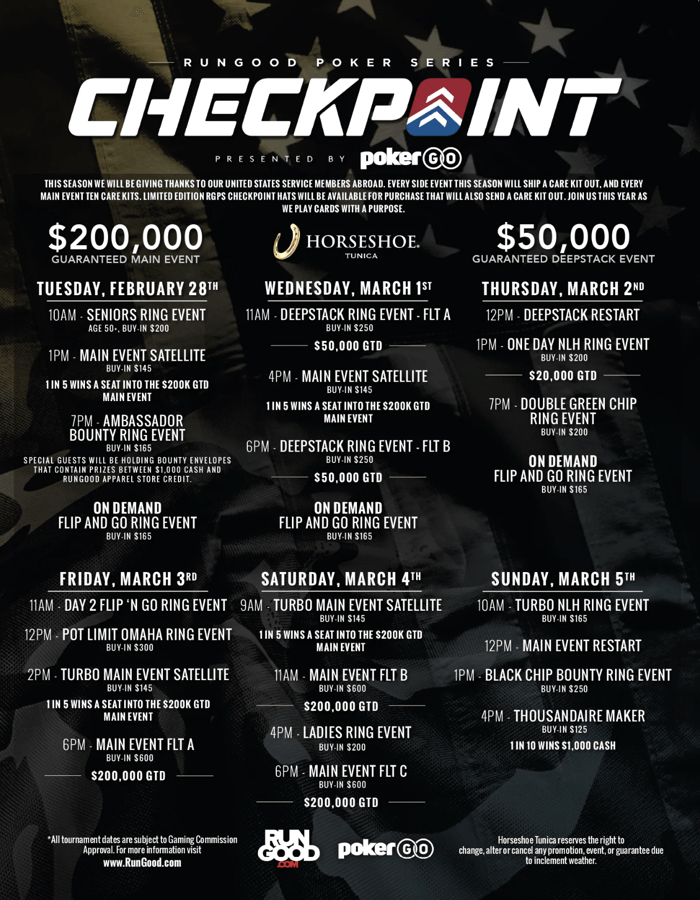 Other highlights of the series include a $200 One Day NLH Ring Event with a $20,000 guaranteed prize pool, a $300 Pot Limit Omaha Ring Event and a $200 Ladies Ring Event.
But the biggest draw of the southern RunGood stop is the $200 Main Event, the first starting flight of which gets underway on March 3. After two more starting flights on March 4, players will reconvene on March 5 for a shot at the title.
Previous Winners
When the RGPS team was last at Horseshoe Tunica in October 2022, the $600 Main Event drew a field of 597 runners for a prize pool of $310,440. At the end of it all, it was Mississippi native JW Carter who took home the $58,110 top prize after defeating heads-up opponent Wesley Jones.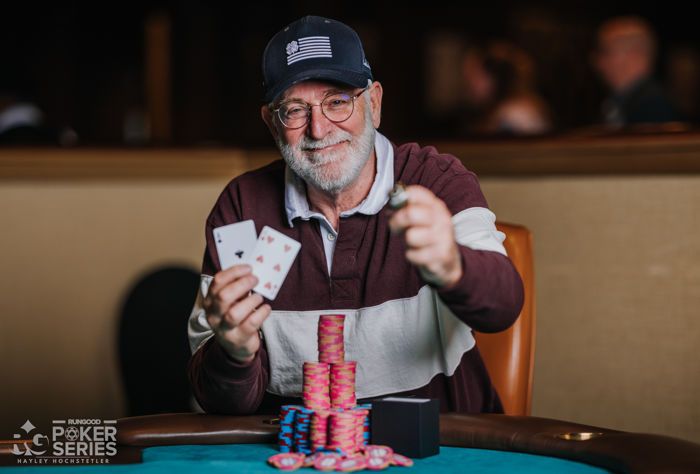 Others who joined Carter at the final table included Mike Cordell (3rd – $28,654), BJ McBrayer (4th – $21,358) and Matthew Lawrence (5th – $16,112).
Earlier in the series, Michael Benbrook took down the $200 Two Green Chip Bounty event for $4,565 and Jones emerged the winner in $300 Pot-Limit Omaha for $5,151.
2022 RGPS RunGood Tunica Main Event Final Table Results
| Place | Player | Prize |
| --- | --- | --- |
| 1 | JW Carter | $58,110 |
| 2 | Wesley Jones | $38,867 |
| 3 | Mike Cordell | $28,654 |
| 4 | BJ McBrayer | $21,358 |
| 5 | Matthew Lawrence | $16,112 |
| 6 | Micheal Senedetka | $12,293 |
| 7 | John Duke | $9,468 |
| 8 | Chris Hight | $7,388 |
| 9 | Adam Cotant | $5,836 |
Back in March 2022, Max Le took down the $575 Main Event after an even six-way chop in an event that drew 602 runners for a prize pool of $301,000. The others who got in on the chop were Teresa Lammie-Anders, David Lee, Matthew Kassela, Brock McCoy and Kyle Cartwright.
After wrapping up in Tunica, the RGPS team will stick around in the south for RGPS bestbet Jacksonville in Florida taking place March 23-April 2.
The full schedule for the upcoming RGPS Horseshoe Tunica stop is available in the table below.
2023 RGPS Tunica Full Schedule
|   | DATE | START | EVENT |
| --- | --- | --- | --- |
|   | Feb. 28 | 10:00 AM | Seniors Ring Event (AGE 50+, Buy-in $200) |
|   | Feb. 28 | 1:00 PM | Main Event Satellite (Buy-in $145) |
|   | Feb. 28 | 7:00 PM | Opening Night Guest Bounty Ring Event (Buy-in $165) |
|   | Feb. 28 | On Demand | Flip & Go Ring Event* ($165 buy-in, On Demand) |
|   | March 1 | 12:00 PM | DeepStack Ring Event FLT A (Buy-in $250, $50,000 GTD Prizepool) |
|   | March 1 | 4:00 PM | Main Event Satellite (Buy-in $145) |
|   | March 1 | 6:00 PM | DeepStack Ring Event FLT B (Buy-in $250, $50,000 GTD Prizepool) |
|   | March 1 | On Demand | Flip and Go Ring Event Day 1 (Buy-in $165) |
|   | March 2 | 12:00 PM | DeepStack Ring Event Restart |
|   | March 2 | 1:00 PM | One Day NLH Ring Event (Buy-in $200, $20,000 GTD Prizepool) |
|   | March 2 | 7:00 PM | Double Green Chip Bounty Ring Event (Buy-in $200) |
|   | March 2 | On Demand | Flip and Go Ring Event (Buy-in $165) |
|   | March 3 | 11:00 AM | Flip and Go Ring Event Day 2 |
|   | March 3 | 12:00 PM | Pot Limit Omaha Ring Event (Buy-in $300) |
|   | March 3 | 2:00 PM | Turbo Satellite (Buy-in $145) |
|   | March 3 | 6:00 PM | RunGood Main Event FLT A (Buy-in $600, $200,000 GTD Prizepool) |
|   | March 4 | 9:00 AM | Turbo Satellite (Buy-in $145) |
|   | March 3 | 11:00 AM | RunGood Main Event FLT B (Buy-in $600, $200,000 GTD Prizepool) |
|   | March 4 | 4:00 PM | Ladies Ring Event (Buy-in $200) |
|   | March 4 | 6:00 PM | RunGood Main Event FLT C (Buy-in $600, $200,000 GTD Prizepool) |
|   | March 5 | 10:00 AM | Turbo NLH Ring Event (Buy-in $165) |
|   | March 5 | 12:00 PM | Main Event Restart |
|   | March 5 | 4:00 PM | Thousandaire Maker (1 in 10 wins $1,000 CASH, Buy-in $135) |
|   | March 5 | 12:00 PM | Thousandaire Maker (1 in 10 wins $1,000 CASH, Buy-in $135) |