Phil Hellmuth Loses Big on HCL, Spoils Outcome Early on Twitter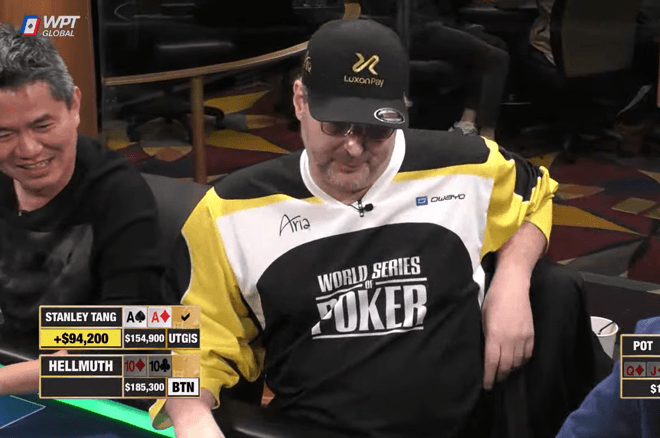 Phil Hellmuth took his largest live-stream defeat in a decade on Monday's Hustler Casino Live high-stakes game, and he was apparently so excited to tell the Twitter world about his loss that he spilled the beans two hours before the stream ended.
As is customary when it comes to live-streamed shows, which all operate on a slight delay for integrity reasons (and gaming regulations), most players will wait until the stream concludes before posting results on social media. But not the "Poker Brat," who prematurely informed his followers that he dumped $144,500.
Lost personal record (since 2012, roughly 33 sessions) in LIVESTREAM or televised poker: $144,500 on @HCLPokerShow. Tough day! But, game played BIG! Next 10 days: filming @LIVEattheBike 3 times starting tomorrow, and "No Gamble, No Future" twice. Plenty of time to recover!! pic.twitter.com/BJjEtNOJDH

— phil_hellmuth (@phil_hellmuth) February 14, 2023
The 16-time World Series of Poker (WSOP) bracelet winner, however, held true to his word that he would buy in for $300,000, a proclamation he made last year after facing criticism for entering a Live at the Bike high-stakes game with just $20,000.
Hellmuth Takes an 'L'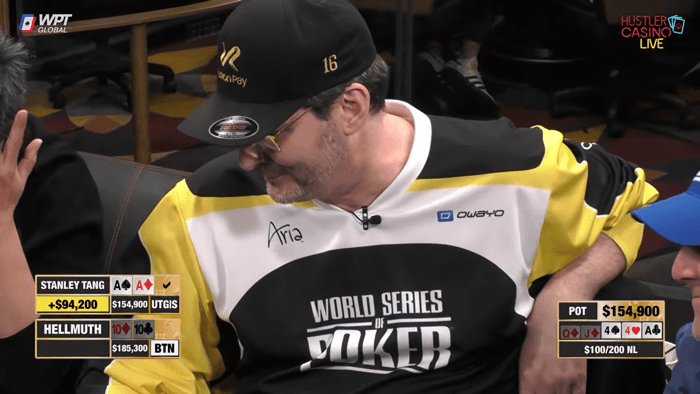 At the end of the five-hour stream, he was down $158,600, according to the YouTube graphic, slightly more than showed in his tweet. A large chunk of those losses came in a hand against his pal Stanley Tang, the DoorDash founder.
With three straddles on, Hellmuth made a huge raise from the button to $15,000 with
and Tang just called with
in the first straddle before Alan Keating, holding
in the second straddle, and Chamath Palihapitiya, with
in the other straddle, called.
The flop came out
, not exactly music to the ears of Hellmuth, but that didn't stop him from continuing his aggression with a $25,000 bet. Tang then moved all in for $45,700 total, forcing Keating and Palihapitiya off the pot.
With action back on the "Poker Brat," he was in an uncomfortable position, knowing he could likely only beat a draw, but perhaps priced in given it was only $20,700 more for him to call (6.5-1 on his money). He eventually did call and both players agreed to run it twice, neither of which improved Hellmuth's hand. Tang took down the $155,000 pot, while the Poker Hall of Famer chewed himself out for betting the flop.
Hellmuth also lost a $72,000 pot to Stanley Choi when his pocket kings were cracked on the turn by pocket queens. Earlier in the session, he made a surprising fold with ace-king preflop when facing a $9,000 three-bet from HCL regular "J.R.," who had pocket 10's.
But the weirdest, and one of the most costly, hands of the day for the former world champion came against "J.R.," who bet $20,000 on the river with
on a board of
and somehow received a call from Hellmuth, who had
for nothing but king-high. Commentator Bart Hanson questioned if it was a misread and not some wild hero call.
We'll let you be the judge.
Keating Doesn't Like to Fold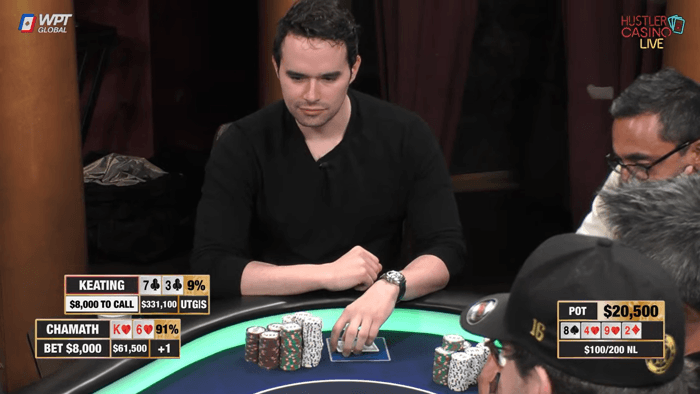 For the entire session, Hellmuth raised a measly 8% of the hands he was dealt, far and away the lowest at the table. His VPIP (voluntarily putting chips in play) was just 31%. On the opposite end of the spectrum was Keating, whose VPIP was at 86%, a Hustler Casino Live record.
Keating has long been one of the most popular players on the show due to his apparent hatred for folding hands. He plays any two cards and is tough to bluff. But although he's about as loose as they come, he also has the stones to pull off some six-figure bluffs.
Before the stream began, he said in a pregame interview that his goal was to stack Hellmuth. Not only did that not happen, but he finished the live-streamed portion of the game down $252,000, making him the biggest loser in the game by a wide margin.
Palihapitiya, who was playing for charity (as was Tang), was far and away the biggest winner. The billionaire venture capitalist and regular in Hellmuth's home games bought in for $50,000 and finished the game with $406,500 in his stack, spinning up a $365,500 profit. No one else won more than $30,000 while on stream.
Hellmuth is scheduled to appear on Live at the Bike on Tuesday, Wednesday, and Thursday. Robbi Jade Lew will compete in those games, making her live-stream return for the first time since the Sept. 29 alleged cheating incident on HCL.