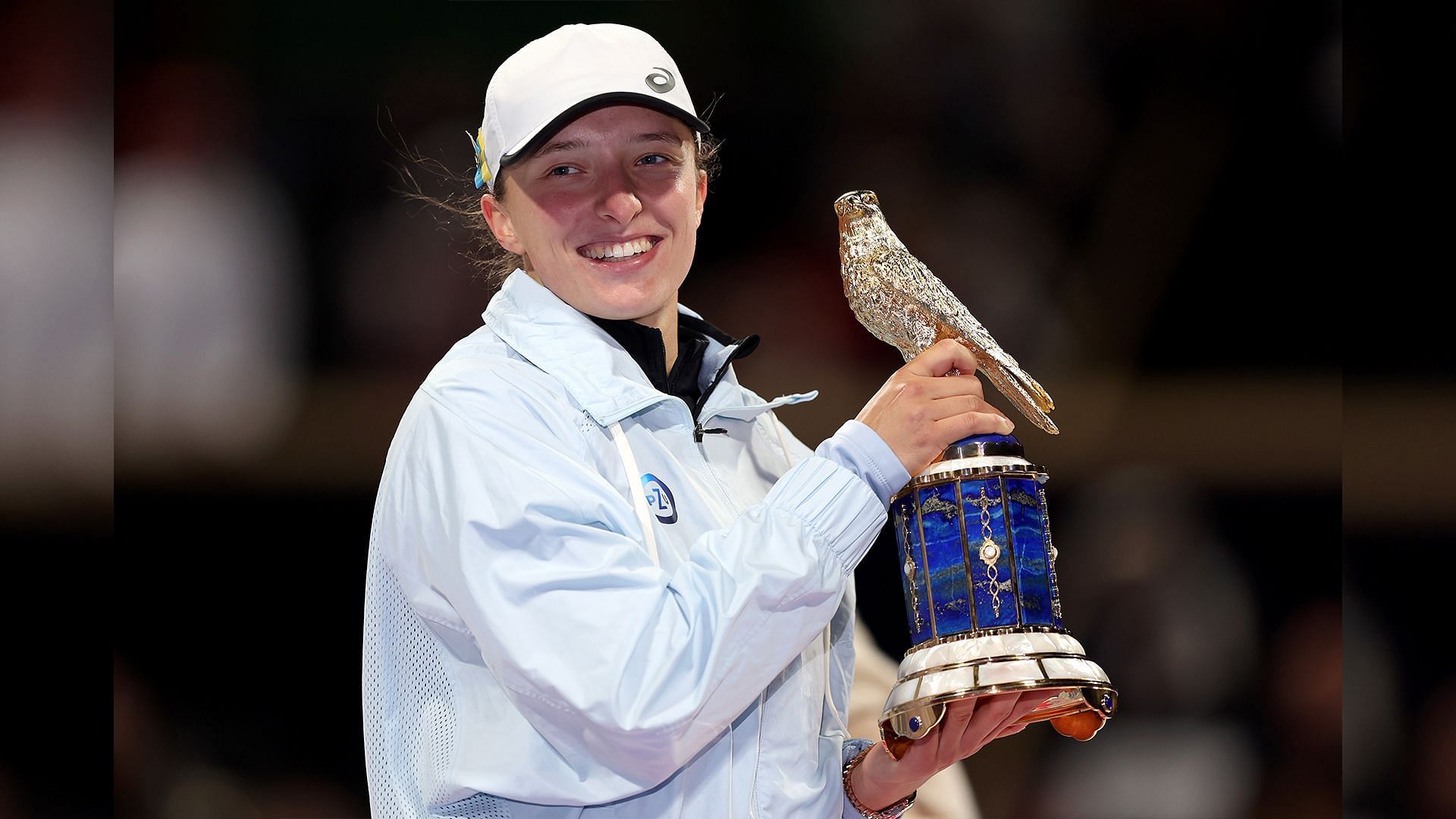 Iga Swiatek enjoyed a flawless performance in Doha as she conceded only five games en route to the trophy. She defeated Jessica Pegula 6-3, 6-0 in the final to lift the Qatar Open trophy for the second consecutive time.
Earlier in the week, the World No. 1 talked about tricking her brain to lower her expectations. She said that she tried to focus on smaller details that brought her joy instead of overthinking and worrying about her ranking or performance. She added that it helped her to feel freer on court.
During the final post-match press conference, Swiatek was asked about her need to lower her expectations when she was playing such flawless tennis. She replied that lowering her expectations helped her to play better. She added that telling herself that she was playing in tricky conditions against tough opponents allowed her to not expect too much of herself.
"Yeah, but it also kind of happens because I managed to lower the expectations, and I told myself before every match that the conditions are tricky, the tournament is so packed that I don't have to expect from myself that I'm gonna, you know, play magnificent tennis," the 21-year-old said.
The World No. 1 said that she had really enjoyed playing in a focused state, especially since she began the season playing in a more scattered frame of mind.
But then, I don't know, I felt better and better on court. I didn't really come back to these thoughts. I just, I don't know, really enjoyed playing. Every game I was really focused, and that's the thing I'm most happy about, because at the beginning of the season I felt like my mind was kind of flying away sometimes, Swiatek added.
Iga Swiatek mentioned that she was glad to be in a single-minded state and hoped to be able to remain that way for the upcoming tournaments. She did say that she would still keep her expectations lowered moving forward.
"I'm happy that I'm at that state right now, and hopefully I'm going to continue doing that. But you never know. So I'm going to keep my expectations low still," Swiatek said.
Iga Swiatek reveals the music artists that helped her stay energized before a match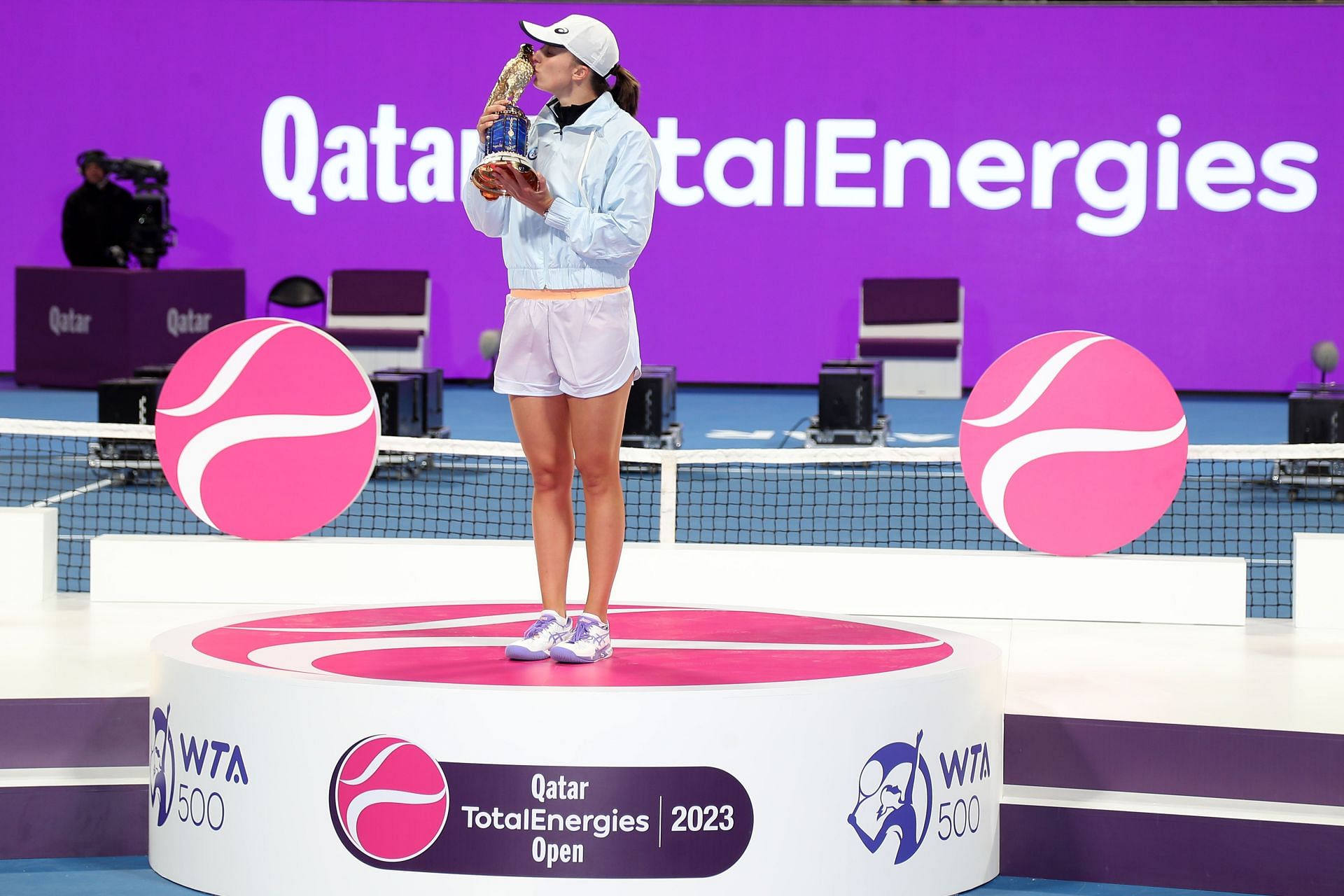 Iga Swiatek had a dominant performance at the Qatar Open. Following a first-round bye, Iga Swiatek triumphed over Danielle Collins with a convincing win in the next round. She progressed past the quarterfinals without playing a match as Belinda Bencic withdrew from the tournament.
In the semifinals, the 21-year-old displayed her dominance by defeating Veronika Kudermetova 6-0, 6-1. She triumphed over Jessica Pegula in the final to lift the Qatar Open trophy.
During the post-match interview, Swiatek spoke about how she used breathing exercises and compartmentalization techniques to help her stay focused.
"I do meditation. I don't think there is time on court to use it, so usually it's just breathing or I just focus on, like, two details technically that I want to do, and it keeps me busy from thinking about other stuff or thinking about, I don't know, technical things that can mess up with my head, you know. So I have and I'm using that," the Pole said.
Iga Swiatek added that music helped her gain more energy prior to matches. She revealed that she was listening to her usual playlist consisting of AC/DC and Led Zeppelin before the Qatar Open final.
"And music also is helpful. I'm usually kind of like singing the same song in my head. Before the match I also use that to kind of get more energy. I think today it was the same as usual, AC/DC and Led Zeppelin" she added.
Iga Swiatek will be back in action at the Dubai Tennis Championships. In 2022, she was defeated in the second round of the tournament by eventual champion Jelena Ostapenko.