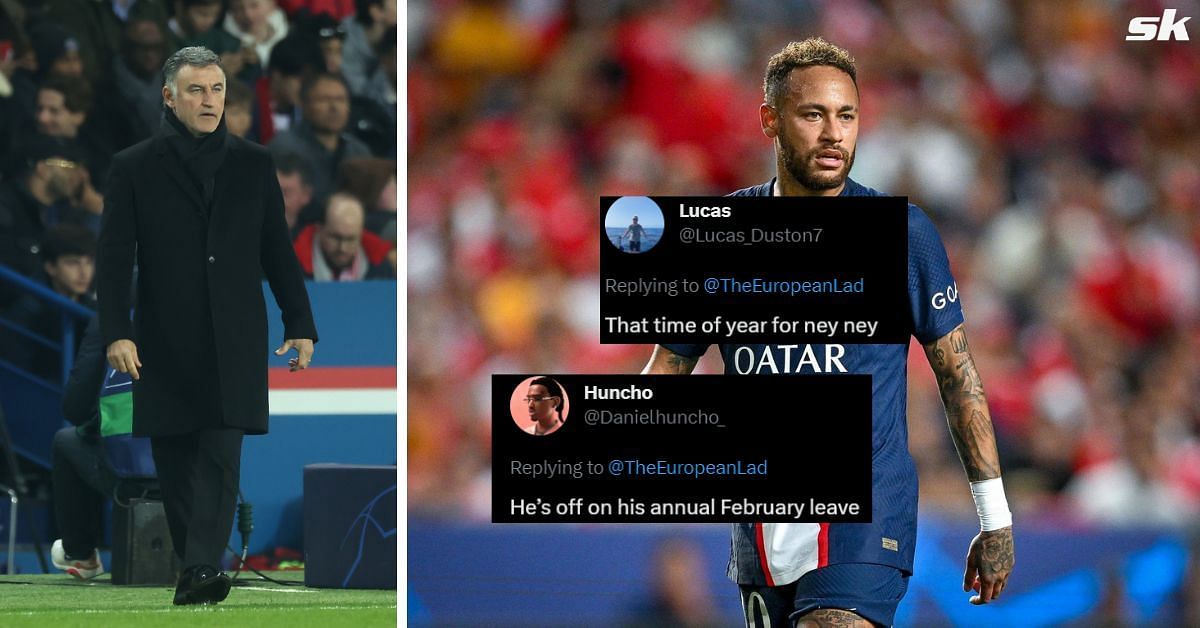 Paris Saint-Germain (PSG) superstar Neymar Jr. suffered an ankle injury during the Ligue 1 clash against LOSC Lille on February 19. The Brazilian ace twisted his ankle and had to be stretchered out as a result.
The no. 1 was the provider as Kylian Mbappe opened the scoring at the Parc des Princes with a spectacular goal in the 11th minute. He got on the scoresheet six minutes later to make it 2-0 for Christophe Galtier's team in the 17th minute.
The Brazilian attacker has been in great form for the Parisian club this season. He has scored 18 goals and has provided 17 assists in 29 matches across competitions. Neymar's injury woes, however, remain a persistent issue.
Fans pointed out that he is one of the unluckiest players in world football. A few fans, however, brought up a conspiracy theory. The Brazilian's sister, Rafaella Santos, celebrates her birthday on March 11. The player misses games around the date almost every year and the same happened once again now.
One fan wrote:
"He's off on his annual February leave."
PSG, meanwhile, are currently losing their home game against LOSC Lille 3-2 at the 80-minute mark. If the scoreline remains the same, Galtier's team could be staring at a fourth straight defeat across competitions.
Nevertheless, here are some of the reactions across Twitter as the Parisian club's no. 10 suffered an ankle injury and was stretchered off the field:
So much talent wasted by so many horror injuries

— Luz 🦹 (@Luz_lm10_sc30) February 19, 2023
---
PSG manager Christophe Galtier dismissed that Kylian Mbappe's comments were aimed at Neymar
After their UEFA Champions League Round of 16 defeat against Bayern Munich on February 14, PSG forward Kylian Mbappe told the media (via GOAL):
"Our players have to be in good health for the return leg. Everyone needs to eat and sleep well. We're going to work, get everyone back and get there to qualify."
Hours after the match, Neymar was spotted in a fast-food center and could be seen playing Poker. Galtier, however, dismissed notions that Mbappe's comments were a dig at his attacking partner in any shape or form. He said:
"What Kylian said in the mixed zone is exactly what he said in the locker room. Words of great maturity so that everyone remains mobilized. They are welcome."
He further added:
"I'm not going to associate Kylian's statement with the photo of Ney in a fast-food restaurant. I spoke with Ney; I told him what I thought. He has the right, on his day off, to play poker, which he loves. I told him what I thought of this photo that came out. There is no confusion to be made."
PSG, however, are going through a rough patch at this point in time. With superstars like Lionel Messi, Neymar, and Mbappe in their ranks, they are not expected to lose four games in a row.