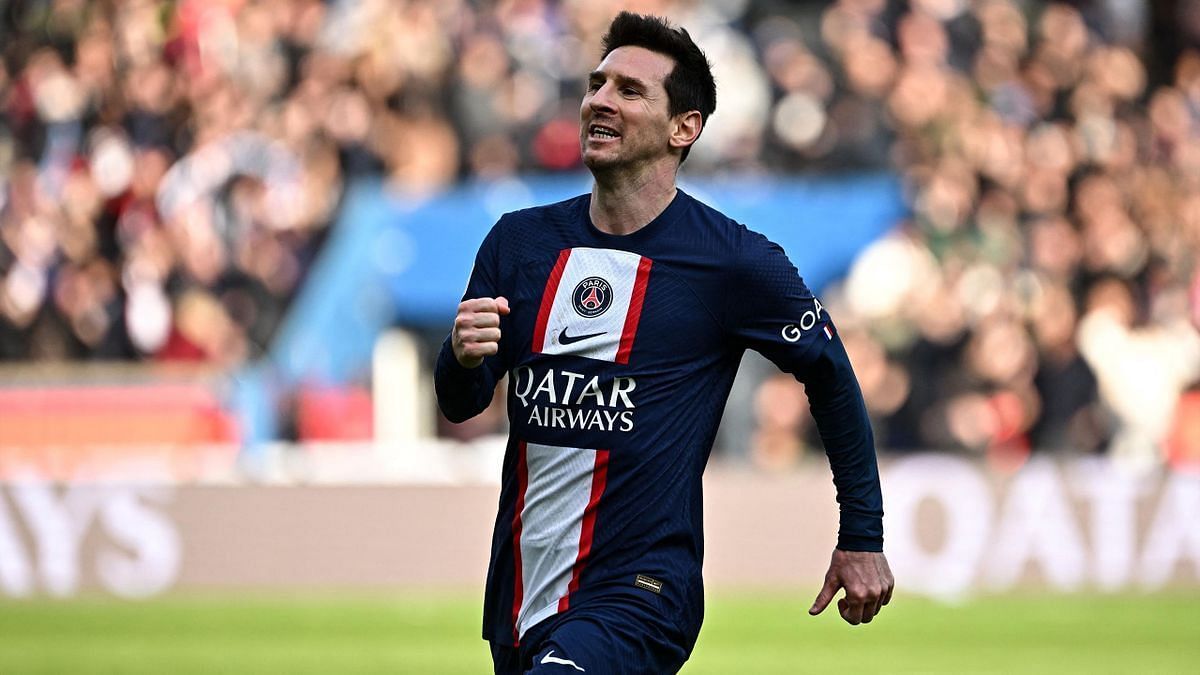 Paris Saint-Germain (PSG) fought hard as they came back from behind to defeat Lille 4-3 in Ligue 1 on Sunday,
The Parisians entered this game on the back of three consecutive defeats across competitions and won their other two in their last five games. They suffered a narrow 1-0 defeat against Bayern Munich in the UEFA Champions League last time out, with two goals ruled out for offside.
Christophe Galtier was handed a boost as his main front three were all fit to start. However, he rotated his defense and midfield as he named a dynamic lineup.
Both PSG and Lille made bright starts to the game, creating alternate chances in the initial stages of the game. Despite playing at home, the Parisians were narrowly second-best in the first period as they were edged 56 to 44 in terms of possession stats. However, that did not prevent from grabbing an early lead.
Having started from the bench in the last game, Kylian Mbappe hit the ground running with a sharp strike in the 11th minute to make it 1-0. Neymar provided an assist for the goal. The Brazilian then got on the scoresheet himself, adding PSG's second goal in the 17th minute via an assist from Vitinha.
The hosts thought things were smooth-sailing but conceded in the 24th minute as in-form Lille man Andre Gomes set-up Bafode Diakite to cut down their deficit. Galtier's men suffered another setback as Nuno Mendes was forced off with an injury. However, PSG carried a 2-1 lead into the break.
PSG endured a challenging start to the second period as Neymar was caught on his ankle and was visibly distraught as he realized he would be out with an injury. The tearful Brazilian was replaced by Hugo Ekitike. Lille were awarded a penalty shortly after as Marco Verratti was booked for pulling the attacker's shirt and later booked for protesting.
Jonathan David stepped up to score as Lille came from two goals down to be on level terms with PSG. The visitors then silenced the home support temporarily as they grabbed the lead in the 69th minute, completing a resounding comeback. However, Galtier made multiple changes and that helped change the dynamic of the game for them.
Juan Bernat provided an assist for Mbappe to score from and level things up for a second time in the game as he made it 3-3 with just three minutes left. Lionel Messi then showed why he is the greatest ever, scoring a stoppage-time winner from a free-kick to take PSG over the line.
On that note, here are the Parisians' player ratings.
---
PSG Player Ratings
---
Gianluigi Donnarumma – 6.5/10
Donnarumma put in a decent performance and despite conceding three goals, he made four crucials saves at key moments.
---
Timothee Pembele – 6/10
Pembele had a poor outing and struggled to get into the game as much as he would have liked. He won both his duels and made two clearances. However, he had just 20 touches of the ball in 75 minutes of play.
---
Sergio Ramos – 6.5/10
Ramos had an average game in defense and often struggled to keep up with Lille's pace going forward. He won four of his six duels, making four clearances, two tackles and one block in the process.
---
Presnel Kimpembe – 6.5/10
Kimpembe was handed a start and put in a decent performance. He won four of his eight duels, making two clearances, two tackles and two blocks.
---
Nuno Mendes – 6.5/10
Mendes played for just half an hour before having to be replaced due to an injury. He won two of his three duels, making three interceptions and one clearance in the process. He also played one accurate cross.
---
Vitinha – 6.5/10
Vitinha put in a decent shift in midfield and provided an assist for Neymar's goal in the first period. He played two key passes, won three duels, and also created one big chance that led to a goal.
---
Marco Verratti – 6.5/10
Verratti had a decent game in midfield as he won 12 of his 17 duels, making two interceptions and two tackles in the process. He also completed four dribbles and played one key pass. However, Verratti nearly put his team in jeopardy as he conceded a penalty which allowed Lille a way back into the game. He was booked for arguing with the referee.
---
Fabian Ruiz – 6.5/10
Ruiz had a decent game in midfield as he won nine of his 15 duels, making five tackles and four interceptions in the process. He passed the ball with 88% accuracy and also completed one dribble.
---
Neymar – 8.5/10
Neymar was in incredible rhythm in the first half as he provided one assist and scored one goal to hand PSG a strong start. He played two key passes, creating two big chances in the process. He also completed two dribbles and won four of his five duels. He was forced off with an injury early in the second half.
---
Lionel Messi – 7.5/10
Messi was dormant for most of the game but grew into the proceedings in the closing stages. He played three key passes, completed three dribbles and won five of his nine duels. He scored a lovely free-kick to help PSG win the game.
---
Kylian Mbappe – 9/10
Mbappe had a great game as he scored a vital brace to keep PSG in the hunt despite Lille rallying late on. He won 10 of his 11 duels and completed all eight of his dribbles in a scintillating display with the ball. He also attempted four shots on target, scoring from two of those.
---
Substitutes
---
Juan Bernat – 7/10
Bernat went on to replace Nuno Mendes in the first half and played well. He provided a late assist for PSG's third goal with a smart pass. He also won five of his six duels and completed four dribbles.
---
Hugo Ekitike – 7/10
Ekitike replaced Neymar early in the second period and looked good. He won seven of his nine duels and completed three dribbles. He also attempted two shots on target.
---
Warren Zaire-Emery – 6.5/10
The youngster replaced Vitinha in the second period and put in a decent performance.
---
Carlos Soler – 6/10
Soler put in an average performance after coming off the bench in the second half.
---
Danilo Pereira – 6.5/10
Pereira replaced Ruiz in the second half and put in a good performance.