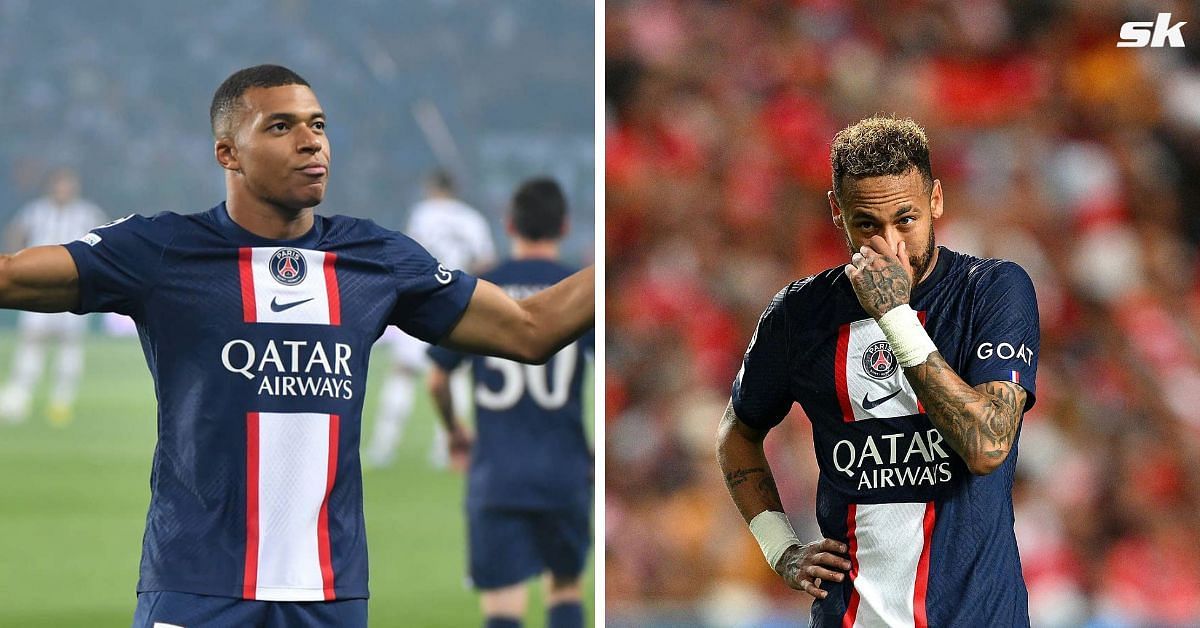 After Paris Saint-Germain (PSG)'s 4-3 home win against LOSC Lille on Sunday (February 19, Kylian Mbappe claimed his previous comments were not aimed at Neymar Jr. Both the superstar attackers, along with Lionel Messi, managed to get on the scoresheet as the Parisian club ended their three-game losing streak.
After the UEFA Champions League round of 16 first leg defeat against Bayern Munich, Mbappe told the media (via GOAL):
"Our players have to be in good health for the return leg. Everyone needs to eat and sleep well. We're going to work, get everyone back and get there to qualify."
Many predicted that those comments were aimed at his attacking partner Neymar. When the Brazilian superstar was spotted in a fast food store hours after the defeat, the rumors intensified.
Mbappe, however, dismissed claims that he took a dig at the Brazilian. The 2022 FIFA World Cup Golden Boot winner further added that the no. 10, who was stretchered off after twisting his ankle against Lille, is an important player for the Parisians and will hopefully be back soon.
Mbappe told Prime Video Sports France:
"Eat well and sleep well? It was not a dig against Ney. I hope he will come back quickly, because he is an essential player for us."
The no. 7 further acknowledged the immense quality that highly-touted prospect Warren Zaire-Emery possesses. Speaking about the teenager, Mbappe said:
"The entry of Warren Zaire-Emery? He has PERSONALITY. What we want here in Paris are players who have it. He is 16 years old but he does not play not with his number on the back."
Messi's injury-time free-kick goal helped PSG secure the win.
---
PSG superstar Kylian Mbappe claims Neymar can find him with a pass from anywhere
PSG superstar Kylian Mbappe's first goal against LOSC Lille was a thing of beauty. As Neymar found the Frenchman with a pass, Mbappe produced a sensational nutmeg before finding the back of the net from close range.
Speaking about the strike after the match, Mbappe said:
"My first goal? I triggered my call when Neymar had the ball. Because he is able to give me the ball in any position."
🚨Kylian Mbappé : "Mon premier but ? J'ai déclenché mon appel quand Neymar a eu le ballon. Parce que lui est capable de me donner le ballon dans n'importe quelle position." 🇫🇷🇧🇷 @PVSportFR

— PSG COMMUNITY (@psgcommunity_) February 19, 2023
Speaking about PSG's performance against Lille, Mbappe said:
"The match was not great. We made a lot of mistakes. But we showed that even when the context is not favorable, we can get out of it. We are a different team with players different."
🚨Kylian Mbappé : "Le match était pas top. On fait beaucoup d'erreurs. Mais on a montré que même quand le contexte n'est pas favorable, on peut s'en sortir. On est une équipe différente avec des joueurs différents." @PVSportFR

— PSG COMMUNITY (@psgcommunity_) February 19, 2023
The Parisian club currently have 57 points from 24 games and lead second-placed Olympique de Marseille by eight points, having played one more game.