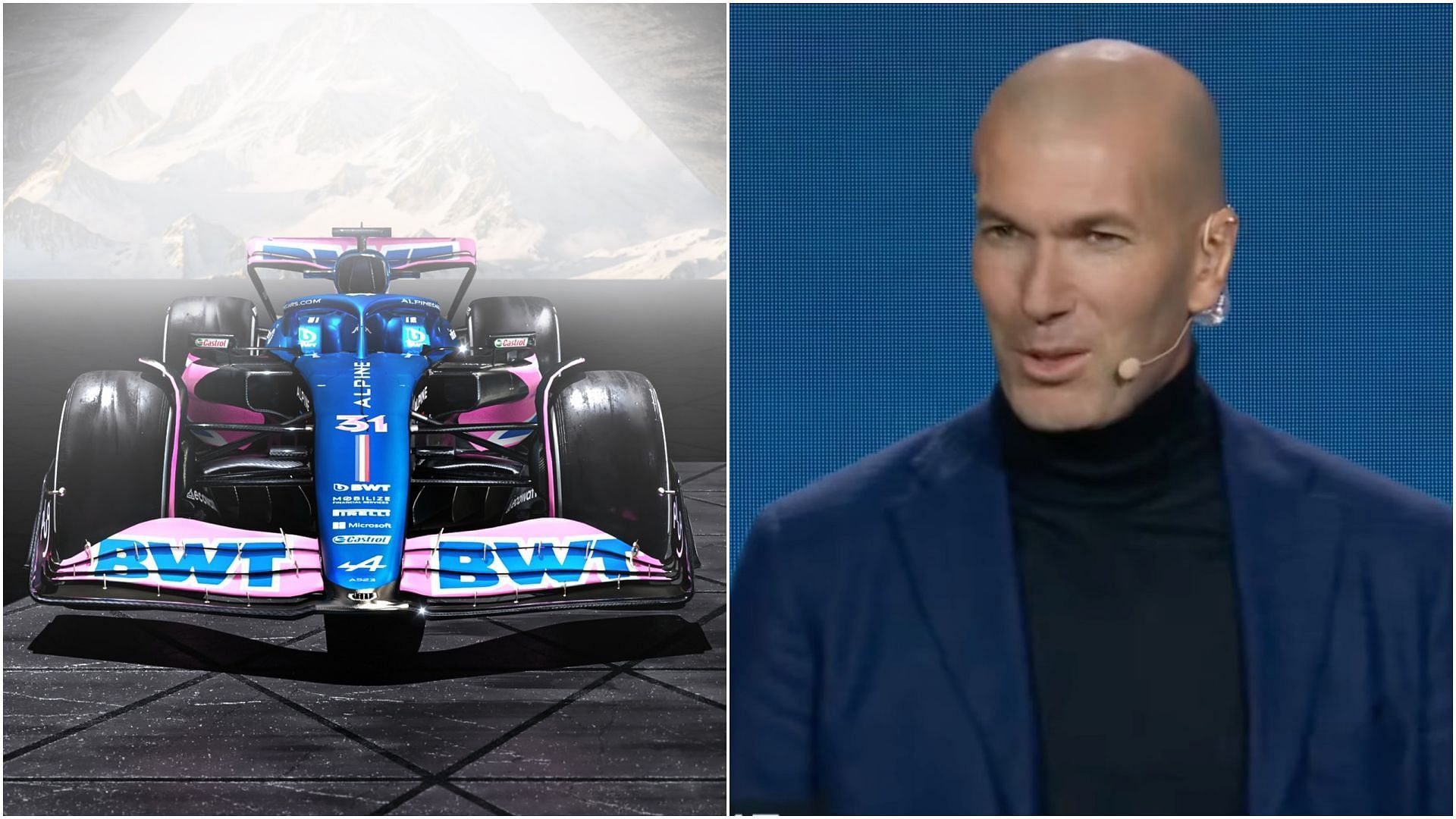 Alpine launched their new F1 car in London on February 16th, ending the 2023 car launch month. They had a long event where Otmar Szafnauer, Esteban Ocon, Pierre Gasly, and several other members of the Alpine F1 team spoke about the new car and their goals for the future. However, the most surprising highlight of the event was when ex-footballer and manager Zinedine Zindane was announced as the team's ambassador.
Alpine, being a French team, found the perfect brand ambassador in Zidane, as the Frenchman has won several football trophies in his time and has also led the popular Spanish football team Real Madrid as a manager. Speaking at the car launch event, Laurent Rossi praised Zinedine Zidane and was excited to announce him as an ambassador. He said:
"I'm immensely proud to welcome another guest, and what a guest. We have someone who's a sporting icon, who's bigger than his sport, bigger than life almost. Someone who's going to drive positive change throughout the entire Alpine organisation. He will be an ambassador, he will help us think about our corporate social responsibility in general, think about strengthening the equal opportunities in particular in motorsport and the car industry."
After Alpine's car launch, Esteban Ocon spoke to Sky Sports about Zidane and praised him for what he has achieved as a footballer and as a manager, saying:
"He's an icon for everyone, even more for me. Obviously, I'm French, I grew up watching him performing and just killing it on the field. And also what he has achieved after that, he's just an unbelievable person and I think a great asset for us to join the team. So can't wait to get started, to be working with him, get some advice from him. Hopefully, that's gonna help us take the next step."
---
Esteban Ocon and Pierre Gasly share childhood banter at Alpine's 2023 car launch event
It is no secret that Pierre Gasly and Esteban Ocon do not have the best relationship with each other. The two Frenchmen had their rough moments on and off the track as both tried to move up in F1 and make their mark. Now, however, they have to drive for the same team in the 2023 F1 season.
Speaking at the Alpine car launch event, Gasly took a humorous jab at Ocon by commenting on how tall he was, saying:
"Slightly taller than what I remembered. Well, I don't know what you ate at the time but you just like..,"
Ocon responded that he was always taller than his teammate, even when they were children. Later on, he addressed his relationship with Gasly and how they will mainly be focusing on improving the team's performance and maintaining a professional but positive relationship. He told the BBC:
"I am confident. You guys like the headlines and all these kinds of stories but we are both very professional and we are going to work the way we need to be performing. I don't think we will ever be best friends but that doesn't matter really as long as the atmosphere is great inside the team, and that's how it is at the moment and that's how it will remain during the year."
Though there are high chances that both drivers might fight during the 2023 F1 season, they will try to push Alpine towards the top spot on the grid.