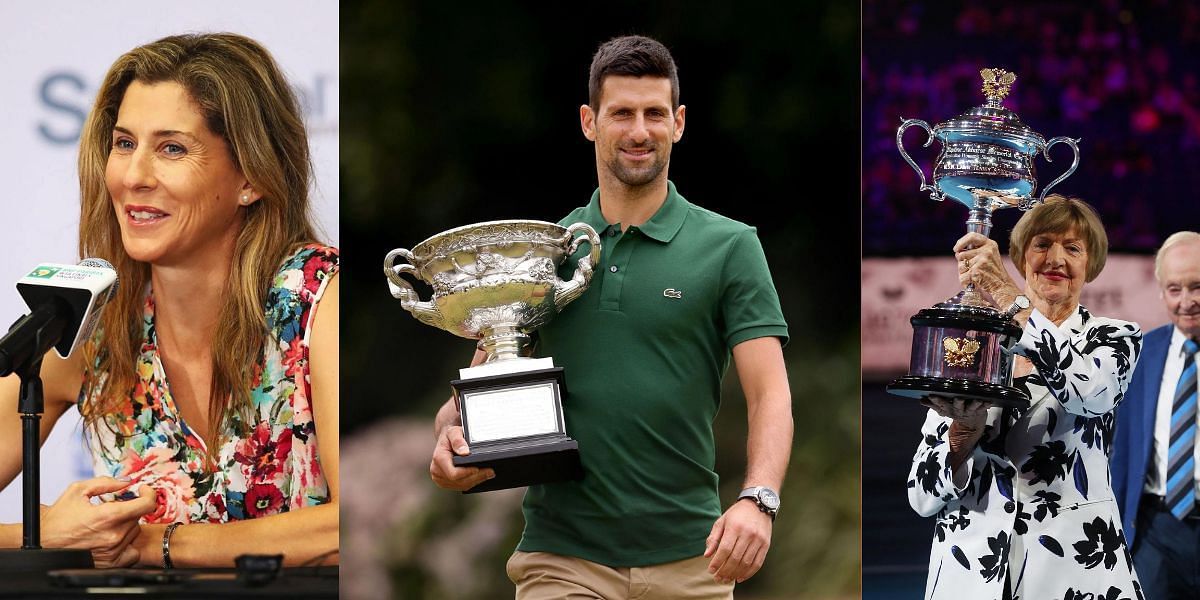 Novak Djokovic could potentially own three more records at Melbourne Park, which are currently held by Monica Seles and Margaret Court, believes journalist Matt Trollope.
Djokovic returned to Australia for the 2023 Australian Open after being infamously deported on the eve of the tournament in 2022 due to his unvaccinated status. Despite battling a hamstring injury, the 35-year-old clinched his 22nd singles Grand Slam title and his 10th at Melbourne Park in January.
The Serb also rose to World No. 1 by winning the tournament after Carloz Alcaraz pulled out due to injury. Looking at the Australian Open record charts, author Matt Trollope reckons the 35-year-old has a realistic chance of overtaking greats like Monica Seles and Margaret Court in the all-time records at the Australian Open.
Speaking on the AO Show podcast, the author of "The Kings and Queens of Rod Laver Arena" said that Djokovic has already overtaken one record i.e. of the longest winning streak.
"He came into the tournament with a 21 match unbeaten run, that started in 2019, and went on to win, playing all his matches on Rod Laver Arena, which puts him at 28. He surpassed his previous run of 22 victories, then beat Andre Agassi and Martina Hingis who were second with 25, and also overtook Monica Seles' 26 to hold the record himself." said Trollope.
The 22-time Grand Slam winner shot to the top of the winning streak table by playing and winning all his AO matches at the Rod Laver Arena.
Trollope also said Djokovic could go ahead and beat Monica Selles' tournament-wide winning streak of 33 matches in 2024. At the same time, the all-time record is held by Margaret Court of 37 matches unbeaten from 1960-1968, which the Serb could overtake in two years' time.
"I think in terms of what's left to achieve (for Djokovic), a couple of things that we could look forward to next year if Djokovic comes back healthy and keen to win at Melbourne park," he said. "This statistic doesn't just relate to Rod Laver Arena, it would be the longest winning streak at the tournament in its history."
He added:
"Monica Seles, I can't remember if this is Open Era or Melbourne Park specific, but she won 33 matches in a row. Novak, currently on 28, could surpass that with a great run next year; a quarterfinal victory would see him equal that."
"If you go back even further," he continued, "Magaret Court had a winning streak of 37 matches from 1960 to 1968. That's pre-Open Era and pre-Melbourne Park, but that is the all-time record. That would take him two Australian Open."
Another record Djokovic can break is the win percentage on Rod Laver Arena, currently held by Monica Selles at 91.46% with a win-loss record of 34-3. The Serb stands second with 91.89% (75-7) and can better Seles' record by reaching the semifinals in 2024 (provided he plays all matches on Rod Laver Arena).
South Australia did a magnificent job in welcoming him: Craig Tiley
Djokovic, returning to Australia after being infamously deported in 2022, was apprehensive about how the fans would receive him at this year's tournament. However, he was welcomed with open arms, said tournament director Craig Tiley.
Craig Tiley said he was proud of the Australian tennis supporters who showered the Serbian with love every time he was on the court.
"You need to give credit to the Australian sporting public that enjoys the sport. We are the fairest in the world. When we are observing greatness, we respect it and cheer accordingly. That's exactly what happened and he was really welcomed back." he said on the AO podcast.
"He went through a tough time last year for a number of different reasons, primarily driven by his own choice. But he came and once he got settled in Adelaide, South Australia did a magnificent job in welcoming him," he added.
Novak Djokovic's 2022 Australian Open controversy over being unvaccinated divided the entire tennis world. This caused the Serbian star to worry about how he would be received upon returning to the country this year. However, the Australian fans showed him there was nothing to worry about as they cheered him on for his historic 10th Australian Open title.