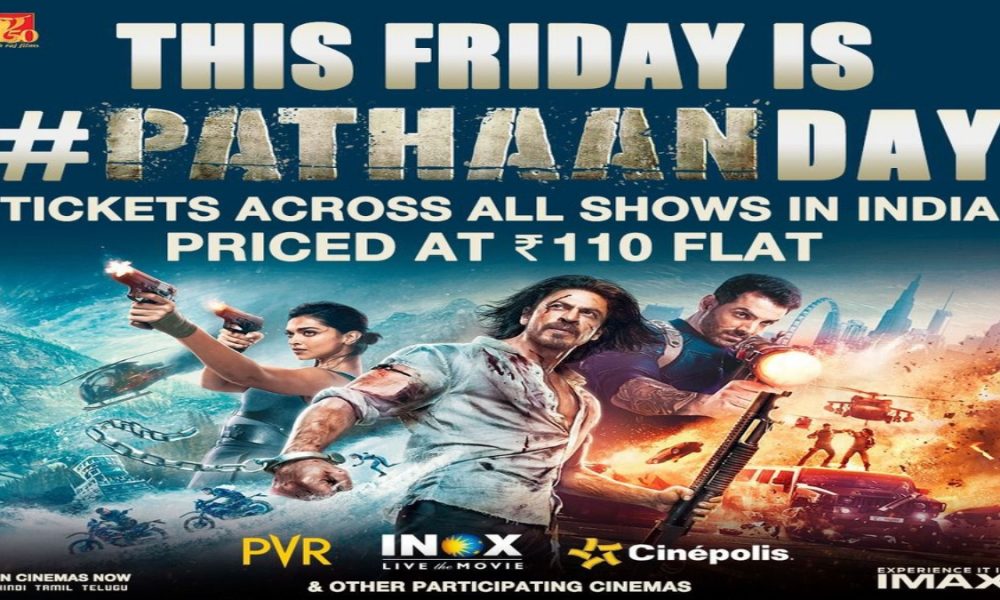 New Delhi: Someone who could not watch Shah Rukh Khan's Pathaan yet or someone who watched and liked the movie too much needs more chance to watch the film over and over again, there's good news from the creators.
This could be a good time to go to your local theatre and witness the action film. Pathaan's producers stated on Thursday that the movie will be released in all Indian theatres for Rs 110 on February 17. The plan has been adopted to mark 'Pathaan Day' in the nation.
Soon after the announcement of Pathaan's reduced rates caused a stir, Shah Rukh Khan exclaimed by tweeting, "Oh oh ab toh phir dekhni padhegi. What a wonderful thing to do. Thank you, @yrf. Can you arrange some free popcorn also! No??"
This emerges as Pathaan has dominated the box office since its premiere. The movie has now grossed over Rs 950 crore at the worldwide box office and is closing in on Rs 1000 crore.
Released on February 25, Pathaan symbolizes Shah Rukh Khan's reappearance on the big screen after his 2018 movie Zero. Deepika Padukone and John Abraham both play important roles in the movie. Salman Khan also made a cameo as Tiger in Pathaan. The storyline centers around an exiled RAW agent who embarks on an assignment to battle against a private terrorist organization Outfit X, directed by John Abraham, as they organize a terrible strike on India.
Watch the movie trailer here:
While Pathaan is a smash hit throughout the nation, Shah Rukh Khan will then appear in the comedy-thriller Jawan. The film will be premiered in June of this year and will mark the Bollywood debut of Tamil director Atlee. Nayanthara appears in the movie alongside Vijay Sethupathi, Priya Mani, Sanya Malhotra, and others. Additionally, SRK will appear in Dunki, a Rajkumar Hirani film. The film will be SRK's debut association with Hirani, and Taapsee Pannu will play the protagonist.