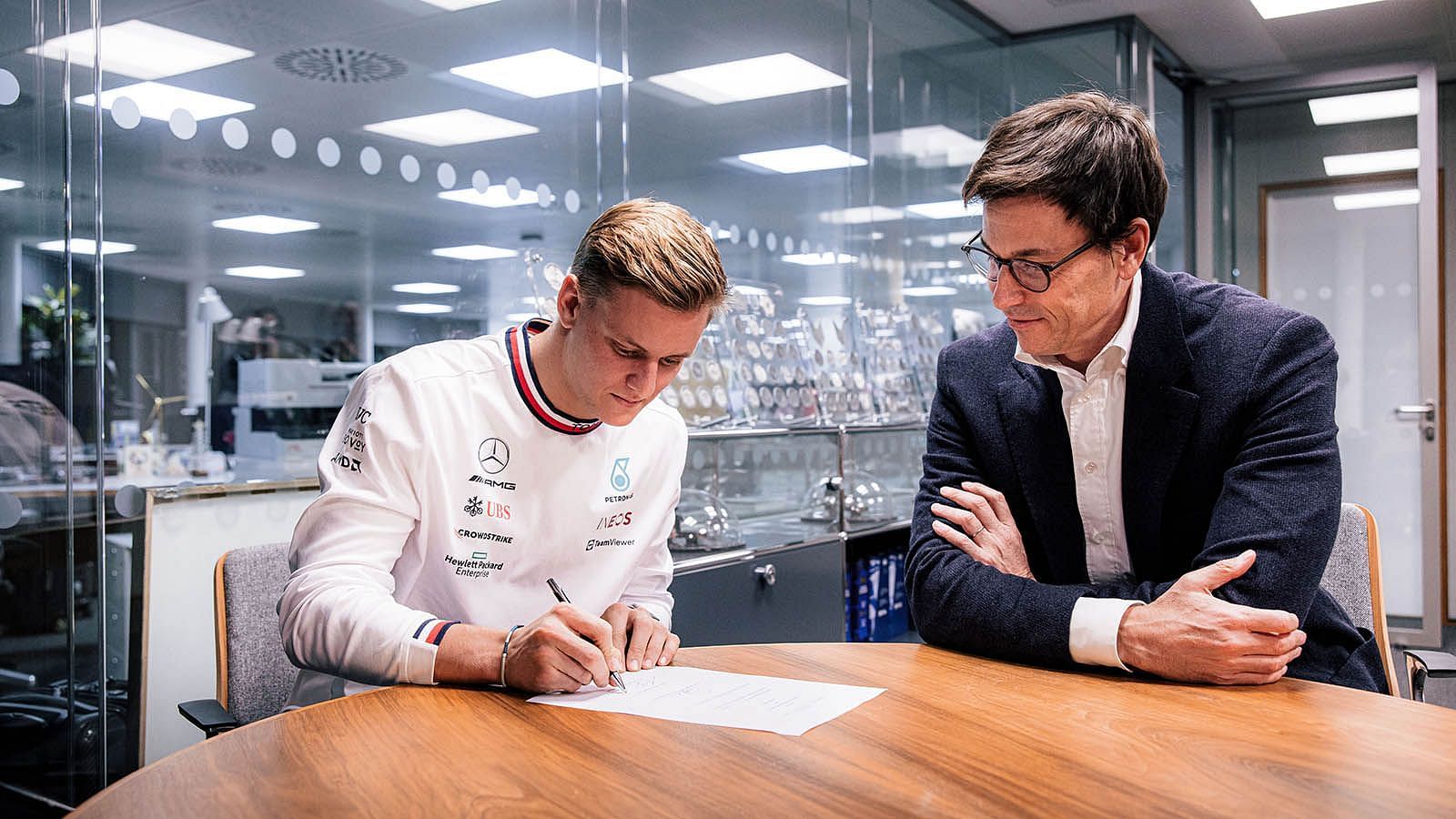 Mercedes boss Toto Wolff said that the team could be willing to put Mick Schumacher in the car this season if either of their regular drivers faces health issues. The young German has integrated himself well as a reserve driver. He joined Mercedes last season after Haas did not renew his contract and replaced him with Nico Hulkenberg.
Wolff said that Schumacher has already been a valuable addition to the team because of his knowledge of the tyres and the new generation of cars, as he raced them last season. The Mercedes boss also hinted that Schumacher would be in the car this season if either Lewis Hamilton or George Russell cannot race:
"A sentence about Mick: I think Mick is such a great part of the team now because we have a driver that has been in the car the last couple of years, knows the tyres, knows the ins and outs of last year's regulations and being able to have two eyes out there on the track, looking at those cars, feeding back the information and being available all the time apart from the sim work."
He added:
"I hope these guys don't have fish poisoning or something (so that Mick Schumacher can slot in), but in any case, he deserves to be in the car."
---
Mercedes willing to let Mick Schumacher go if a racing opportunity emerges elsewhere
Toto Wolff said that Mercedes will let Schumacher go if he gets an opportunity to race at a different team. The team boss cited the example of Nyck de Vries, saying:
"The most important factor is his personality. He's a well-educated, intelligent and talented young man. You can see his junior career track record was very good, and I believe that if we can give him a safe environment to further develop, he can be a good racing driver in a permanent seat in the future."
He added:
"In the same way we have let Nyck de Vries go in order for him to achieve a career, that could be something that could happen to Mick. Whether it is in our team or letting him go somewhere else, we don't know at this stage.
Mick Schumacher's future is going to be a hot topic this season, and it remains to be seen if the German can get a seat on the grid.