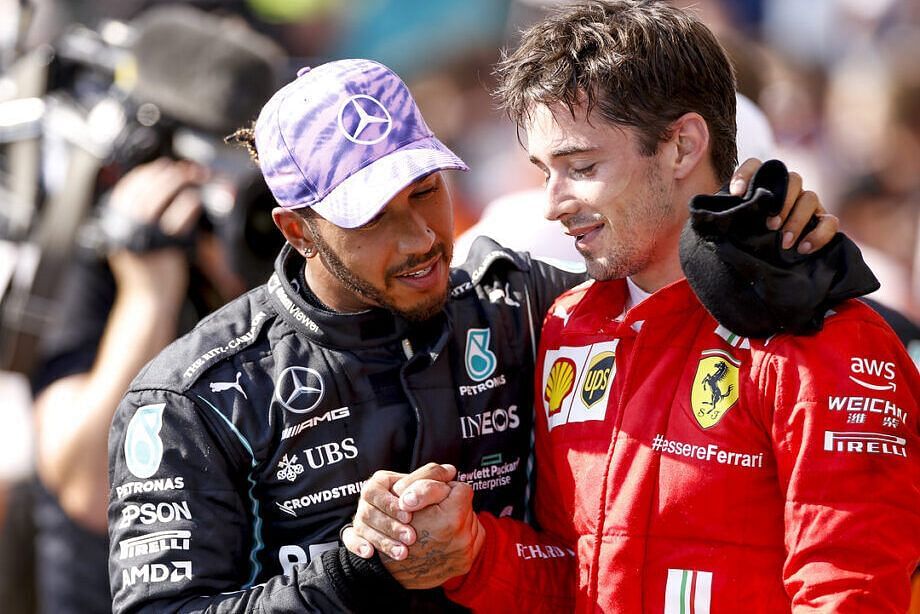 Charles Leclerc believes Lewis Hamilton will have a shot at the 2023 Drivers' Championship if the seven-time world champion is given a competitive car. Leclerc himself will be hoping to mount a serious title challenge this year, given the changes at Ferrari over the winter.
At the 2023 Ferrari car launch, Leclerc gave his opinion about the drivers who could challenge him for the title.
The Monegasque driver mentioned Lewis Hamilton, saying:
"Lewis will never be out of the question for a championship fight. I'm pretty sure if he has the car he will be there. We must not forget what he's achieved in the sport and he still has it."
"We saw that many times last year. Lewis will be there, like Red Bull will be, too and I hope it's going to be a great fight."
Lewis Hamilton had a tough 2022 season as the W13 was uncompetitive. However, on a few tracks, when the car was competitive, Hamilton gave the race leaders a run for their money. At the British GP where Leclerc was leading the race, Lewis was on the hunt, frequently setting the fastest laps.
Hamilton had a torrid 2022 season, finishing P6 in the drivers' standings. The season also marked Lewis' first winless campaign of his career. The winter break would have helped Hamilton and Mercedes reset.
After winning six titles in his 10-year stint at Mercedes, Lewis Hamilton is hungry for more. The 38-year-old will be fighting for his record-breaking eighth F1 World Championship in 2023.
Although Max Verstappen is the most likely title rival for Leclerc this year, he expects Hamilton to make a comeback.
---
Lewis Hamilton feels ready to take on the 2023 season
Mercedes launched their W14 on Wednesday, February 15. At the launch event, Lewis Hamilton expressed his excitement for the season as he feels "ready to go" for the 2023 season.
Hamilton said:
"We always miss driving so the break initially feels too short. And then when you get towards the end of it, you're like, okay, I'm ready to go."
"I'm excited to go racing again. I feel calm, energised, and have my focus sharpened. I'm ready to do what's necessary to win."
The British driver said their 2023 livery meant business as he aims to win races and mount a title challenge.
"To see the evolution of the car and the changes that have been made is fascinating. We've redesigned, optimised, and innovated so many parts of the car and that is impressive. And I love the new livery! It says, 'we mean business'."
Mercedes expect their 2023 challenger to be competitive. If the Mercedes W14 is as quick as it looks, then fans can expect a three-way battle for the championship in 2023.