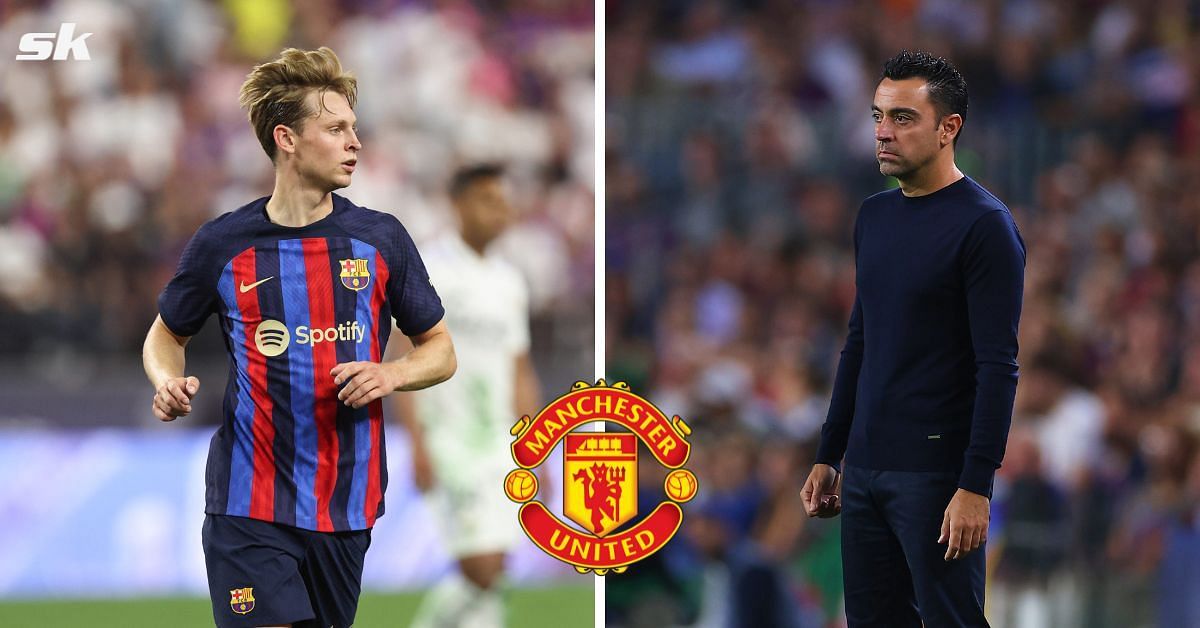 Barcelona manager Xavi Hernandez has revealed the conversation he had with Frenkie de Jong last summer. The Dutch midfielder was the subject of transfer interest from a number of top clubs last summer, with one of them being Manchester United.
The Red Devils identified de Jong as one of their primary targets to strengthen their midfield ahead of the 2022-23 season.
Manchester United manager Erik ten Hag was also keen on reuniting with the Dutch international, with the two having previously worked together at Ajax.
Despite several efforts from the Premier League giants last summer, de Jong insisted on remaining at Camp Nou for the current season.
Ahead of Barcelona's Europa League clash against the Red Devils on Thursday (February 16), Xavi said de Jong was "very clear" that he wanted to stay with the Catalans.
In a recent interview, as seen in Marca, he said:
"He was very clear with me that he wanted to stay," Xavi said. "There was no doubt. Now that he is a Barcelona player, I am very happy with his results and leadership."
The Spaniard further stated that de Jong is currently having a great time at Camp Nou this season.
"He is in a great moment, he is having a great time on the field and that is very important."
The former Ajax midfielder has scored two goals and provided one assist for Barca in 19 appearances in La Liga this season, helping the club establish an 11-point lead at the top of the table.
---
Barcelona goalkeeper speaks highly of Frenkie de Jong
Barcelona goalkeeper Marc-Andre ter Stegen has lauded teammate Frenkie de Jong for his talent and leadership, saying he would like the Dutchman to stay at Camp Nou for a long time.
The German shot-stopper said de Jong offers a lot to the Catalan giants. He also said the Dutchman was a role model for younger players like Pedri and Gavi.
In an interview as seen in ESPN, he said:
"He brings a lot to the team. I have a super high opinion of him, but I also expect a lot from him because he has so much talent. He sees and feels football in a different way. He is someone that players like Gavi and Pedri, for example, can look up to."
He continued:
"I was hoping he would stay because, in the end, this is the type of player I want in my team. Of course, there were many rumours and discussions and whatever, but I am just happy he is here. I don't want him to leave."
"I think one day I will put him something here [gestures tying him down] to just keep him here always, forever, and I hope he will be here for [a] long [time]."