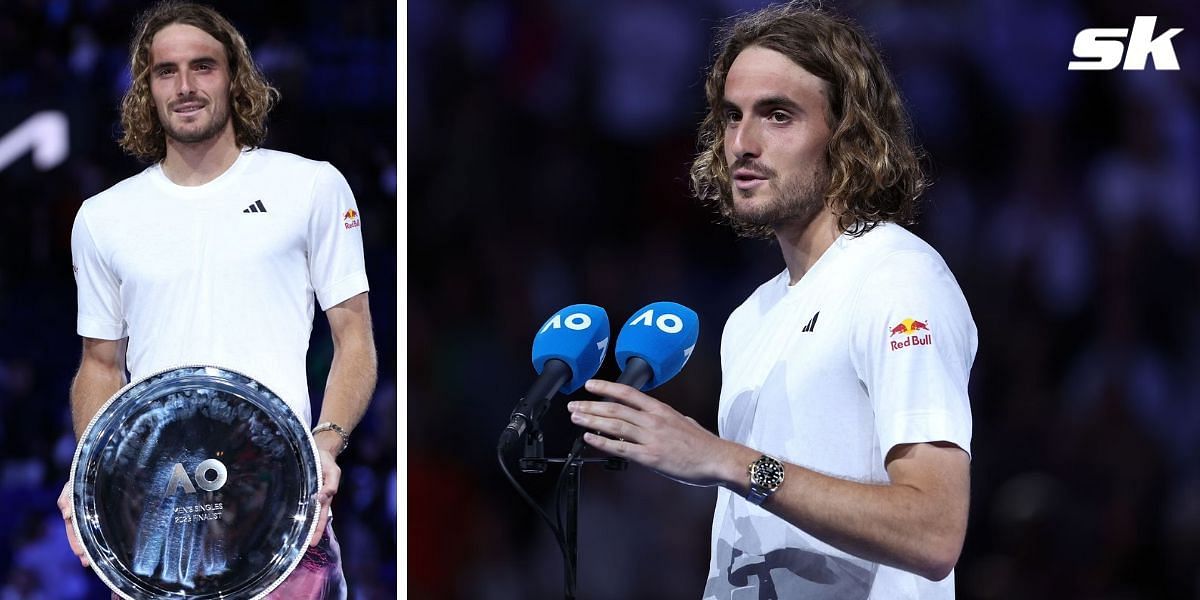 Stefanos Tsitsipas is determined to become the World No. 1 tennis player despite a heartbreaking loss in the 2023 Australian Open final.
Tsitsipas was on a roll in the year's first Grand Slam, reaching the final for the first time at Melbourne Park. He defeated Quentin Halys, Rinky Hijikata, Tallon Griekspoor, Jannik Sinner, Jiri Lehecka and Karen Khachanov to reach the second Major final of his career.
Despite putting up a strong fight over the fortnight, his run was cut short in the final by Novak Djokovic, who defeated the Greek to win his 10th Australian Open title. It was also the second time the Serb prevented Tsitsipas from winning his first Grand Slam title — the 2021 French Open final being the other instance.
Following that, Stefanos Tsitsipas revealed in his press conference that despite missing out on the chance to become the World No. 1, he is still determined to reach the pinnacle of the ATP rankings eventually.
The 24-year-old would have assumed the top spot had he beaten Djokovic in the final. Instead, the Serb will now start his record-extending 374th week as the No. 1-ranked ATP player starting on Monday while Tsitsipas ascends to the No. 3 spot.
"I want to max out in what I do in my profession. No. 1 is on my mind. It doesn't come easy, I know that," Stefanos Tsitsipas said.
"I got to work harder to make that happen. Today was my opportunity to be a world No. 1. I had a better opponent on the other side of the net who did things much better than me. He deserves that spot currently," he added.
The Greek went on to say that, as a "born champion," he sees no reason to lower his "expectations" and that he will work "hard" to achieve his goals.
"It's my time to aim for something like this. I don't see any reason to be lowering my expectations or my goals. I am born a champion. I can feel it in my blood. I can feel it as a competitive kid that I was when I was young. It's something that is within me," Stefanos Tsitsipas said.
"I want to harvest that, make it bloom, make it even stronger and fonder, work hard towards those goals. It's that beautiful number, the number '1', that will make things extremely emotional when converting that," he added.
---
"I find it a very important part of my career, to have a player like him" – Stefanos Tsitsipas on Novak Djokovic
Speaking about his opponent Novak Djokovic, Stefanos Tsitsipas stated that the Serb pushes him to his limits and that having a player like him around will only help him "grow better" and do "bigger things."
"Novak is a player that pushes you to your limits. I don't see this as a curse. I don't see this as something, like, annoying. This is very good for the sport, to have competitors like him, to have champions like him," Tsitsipas said.
"I find it a very important part of my career, to have a player like him that will help me grow better and do bigger things, speaking for my game," he added.
The head-to-head between the duo is now 11-2 in favor of the 22-time Grand Slam champion, who has now won their last 10 matches on the trot.