Nick Kyrgios has cultivated a reputation as being the "bad boy" of tennis, but that doesn't mean all the criticism he receives from the press is fair. At least, that is what his best mate Thanasi Kokkinakis feels about the mercurial Australian.
Speaking at his press conference ahead of the 2023 Australian Open, Kokkinakis shared his thoughts on the press' portrayal of Kyrgios, opining that his actions wouldn't have gotten as much media spotlight if someone else had done them. Kyrgios' "reputation" ensures that some of the stuff he does comes across as too negative, according to the 26-year-old.
"I think sort of some of the stuff [Nick Kyrgios] does that maybe people see as negative gets thrown in the spotlight a little bit more than others because of maybe he's had a reputation for it," Kokkinakis said. "A few things, if other players did it, wouldn't be as sort of focused on as when Nick does it."
At the same time, Kokkinakis admitted that his countryman was "no saint" either, noting that not all of his behavior over the years has been warranted. However, the Australian did not want to pass judgment, remarking that everyone coped in different ways and that Nick Kyrgios was simply trying his best to return to his imperial best once again.
2022 was such a season for the World No. 21, who made his maiden Grand Slam final at Wimbledon, where he lost to Novak Djokovic in the summit clash. Thanasi Kokkinakis expects more of the same from his doubles partner this year as well.
"[Nick Kyrgios] is no saint at the same time. He's done a couple things that are probably warranted. I think some of the stuff is unfair. At the end of the day he's just finding a way to try and do as well as he can," Kokkinakis said. "There's a lot of pressure on him. He feels like he's trying to do as well as he can. Sometimes he copes with it. Everyone copes with stuff in different ways. He had a phenomenal year last year. He's going to continue to give it his all."
Kokkinakis touched on his own goals for the season, stating that he wanted to reach his career-best ranking once again – World No. 69, achieved all the way back in 2015 – and maybe even try to finally beat it.
The World No. 110 further added that he wants to win another title in 2023, stating that he could definitely achieve it if he stayed healthy and kept on improving his game slowly and steadily.
"I want to reach my career high again. I was able to do it last year. I think first time in seven years. I don't know if that's happened before, someone reaches their career high and then hits it again sort of seven years later. I'm going to try and beat that."
"My goal is try and win another title this year. I want to try to break into the top 50. I just want to be healthy and keep playing and improve my game. If I do that, then I think the ranking will follow," Kokkinakis said.
"Someone's going to beat us" – Thanasi Kokkinakis not expecting to defend Australian Open doubles title alongside Nick Kyrgios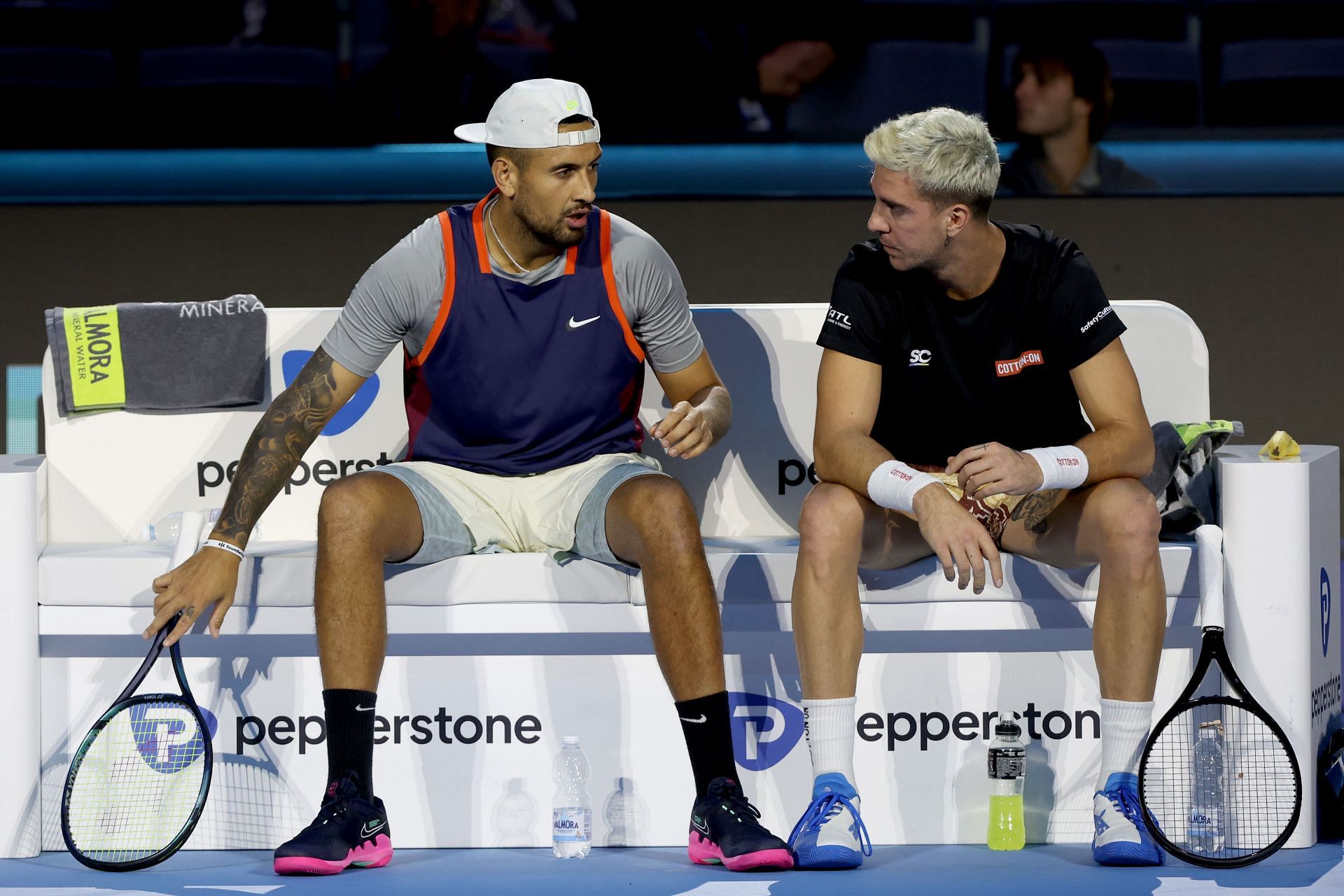 Last year, Nick Kyrgios and Thanasi Kokkinakis made history at the Australian Open, becoming the first all-Australian pair to win the doubles title in the 21st century. The Aussie doesn't expect to defend the title this time around, predicting that he and Kyrgios are definitely going to be beaten by a proper doubles team at Melbourne Park in the coming weeks.
While he promised fans that the pair will definitely compete in the event, he wasn't sure how they were going to do something as huge as defending a Grand Slam title, especially given the targets they have on their backs now.
"Last year was something [Nick Kyrgios and I] didn't expect. I remember people messaged me after every match we won being like, You're going to win this thing. I'm like, No, someone's going to beat us. We're going to lose to a doubles team, for sure."
"It became a possibility from the quarterfinals, a legit thought, we can be better than these guys, we can win. We're going to go out there and give 100%. Hopefully we're both healthy going into it. If I was to say I'm expecting to back it up, I'd be lying, yeah," Thanasi Kokkinakis said.