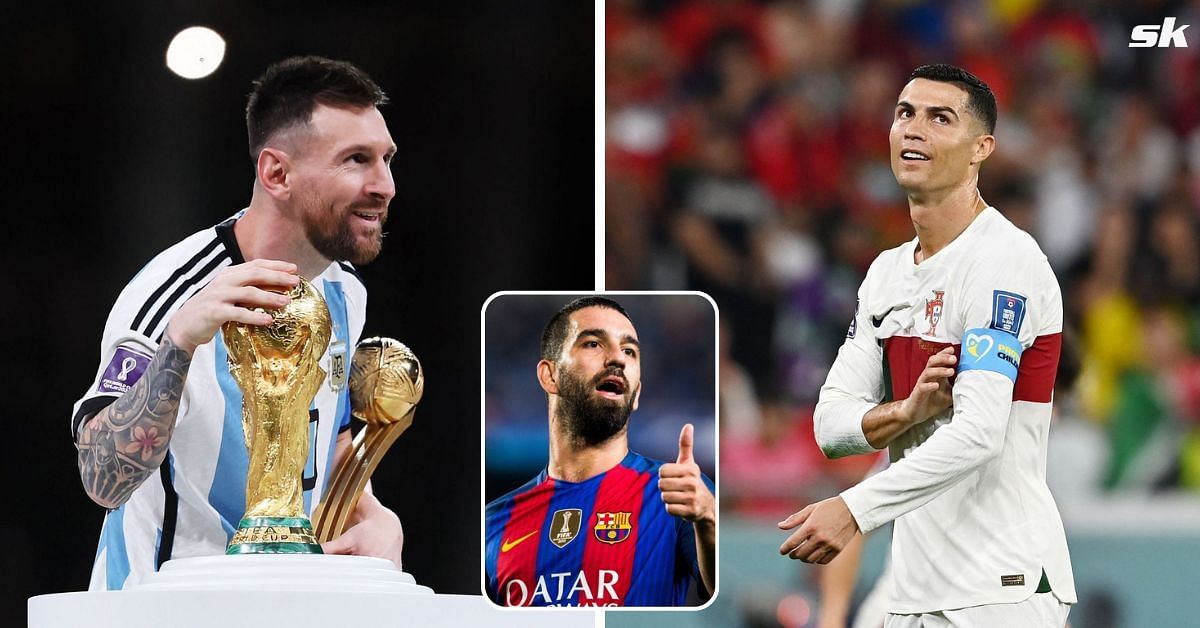 Former Atletico Madrid and Barcelona midfielder Arda Turan recently revealed why he tipped Lionel Messi to win the 2022 FIFA World Cup ahead of his eternal rival Cristiano Ronaldo. The former Turkey international explained that he threw his support behind the Argentine because he is the best footballer in history.
The 2022 FIFA World Cup in Qatar gave Messi and Ronaldo what could be their last chance to win football's greatest prize and write their names in the book of immortality.
The Argentine was able to make the most of that chance by leading his nation to claim the honor by beating France in the final. Messi's Portuguese counterpart, however, crashed out in the quarter-finals, losing to Morocco.
Arda Turan, like some other footballing figures, recently opened up on his decision to back his former Barcelona teammate for World Cup glory.
"I really wanted Leo to win," he said (h/t GOAL Turkey). "Because he is the best in history. Ronaldo is also a great scorer, but in the team Ronaldo plays, you may not always dominate the game.
"But if Messi is in hand, you can always dominate the games. That's why I used to say "Messi is the best," and the team I was convinced of this after he became his friend. Messi is very friendly. He always helps when you have a request. Messi cannot be explained. It's something else."
It goes without saying that Lionel Messi had a FIFA World Cup outing to be proud of. The 35-year-old bagged an impressive seven goals and three assists for Argentina, including two goals against France in the final to help La Albiceleste win the trophy.
Thanks to his impact, the former Barcelona maestro won the World Cup Golden Boot, becoming the first player to claim the accolade twice after winning his first one in 2014.
Cristiano Ronaldo, on the other hand, suffered a poor outing in Qatar, scoring just once in three appearances. Portugal's 1-0 defeat to Morocco in the quarter-finals marked what could be his last game in the competition.
---
Andres Iniesta insists Lionel Messi's World Cup triumph won't end the debate with Cristiano Ronaldo
Former Barcelona midfielder Andres Iniesta has explained that Lionel Messi winning the World Cup won't settle the GOAT debate. The Spaniard believes that those who prefer Cristiano Ronaldo will likely continue treading the same path.
There has been a longstanding debate going on between football pundits and fans about who is the greatest between Ronaldo and Messi. Giving his verdict on the same, Iniesta stated that Messi is the best footballer for him.
"For me, Messi is the best with or without [winning] a World Cup," Iniesta said during an interview with ESPN.
"I think the fact he has won a World Cup, more than what other people [think], is a huge source of happiness for himself. Not just for him, but for Argentina as a country. They are always in the running and the fact they've won it in the way they did makes it totally deserved.
"I am sure anyone who doesn't view Messi as the best will find an excuse to keep seeing it that way, regardless of whether he won the World Cup or not," he added.
Cristiano Ronaldo is yet to make his debut for his new club Al Nassr, while Messi returned to club football with a 2-0 win during Paris Saint-Germain's Ligue 1 game against Angers.