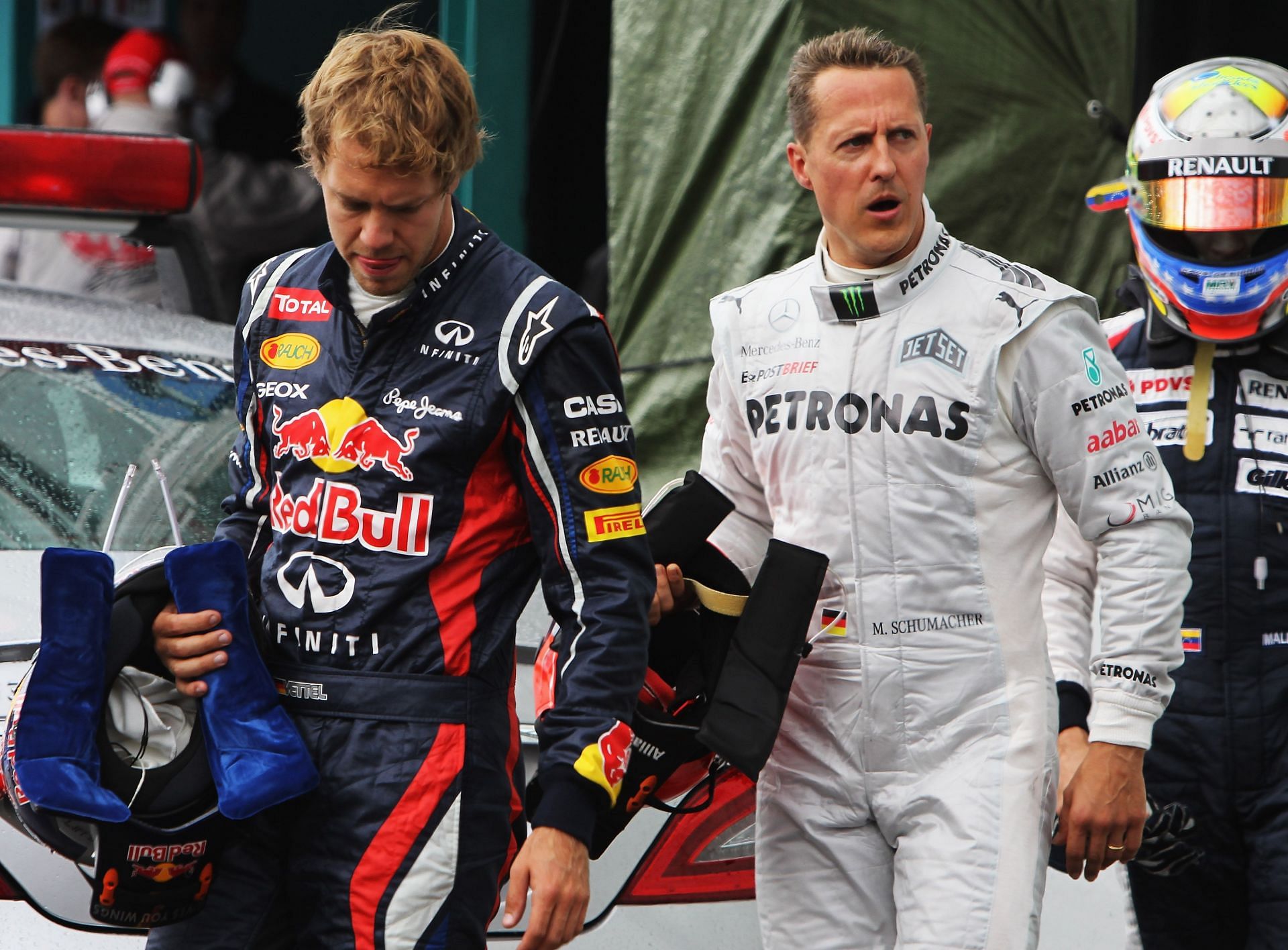 Sebastian Vettel admits he did not feel surreal racing against Michael Schumacher in Formula 1. Schumacher had retired from the sport in 2006 and Vettel made his debut in F1 in 2007. Because of this, Michael was not around when Vettel made his debut in the sport and established himself.
However, this changed soon when in 2010 Michael Schumacher announced his return to F1. The German was going to race with Mercedes. During that time, Sebastian Vettel was in Red Bull and still very young in F1 terms.
While Schumacher stayed in the sport from 2010 to 2012, Sebastian Vettel won the title in all three seasons. In a recent interview on the Beyond the Grid podcast, Sebastian Vettel did admit it did not feel surreal racing against Schumacher.
Until then, Michael had become a friend of Sebastian Vettel and the young German saw his idol differently. He said:
"I got to know him more and more. If I had not got to know him and then raced him straight away, that would have been surreal. I never felt as if it was surreal, because I raced Michael the person, my friend. I forgot sometimes that he's the Michael I admired when I was a child growing up, because then you get to know somebody and you see the person first before the stats. It was just nice to race him, and sometimes I had flashbacks just of my childhood and actually realising it's him."
It was special watching Michael in a go-kart: Sebastian Vettel
Vettel and Schumacher took part in the Race of Champions during that time early in the year. The two drivers represented team Germany and the event used to be a great spectacle. Talking about his time with Michael, Vettel did admit that it was always special watching the F1 legend drive a go-kart. He said:
"Even though it's for fun, [seeing] him in a go-kart, him in any type of car – for me, it was something special to witness, because it just looked better than all the other drivers I've seen so far. There was something else. Maybe that's just me admiring him, but I think there was also something special."
This year, even after his retirement from F1, Vettel will be taking part in the race of champions and will be teaming up with Mick Schumacher (Michael Schumacher's son) for the event.