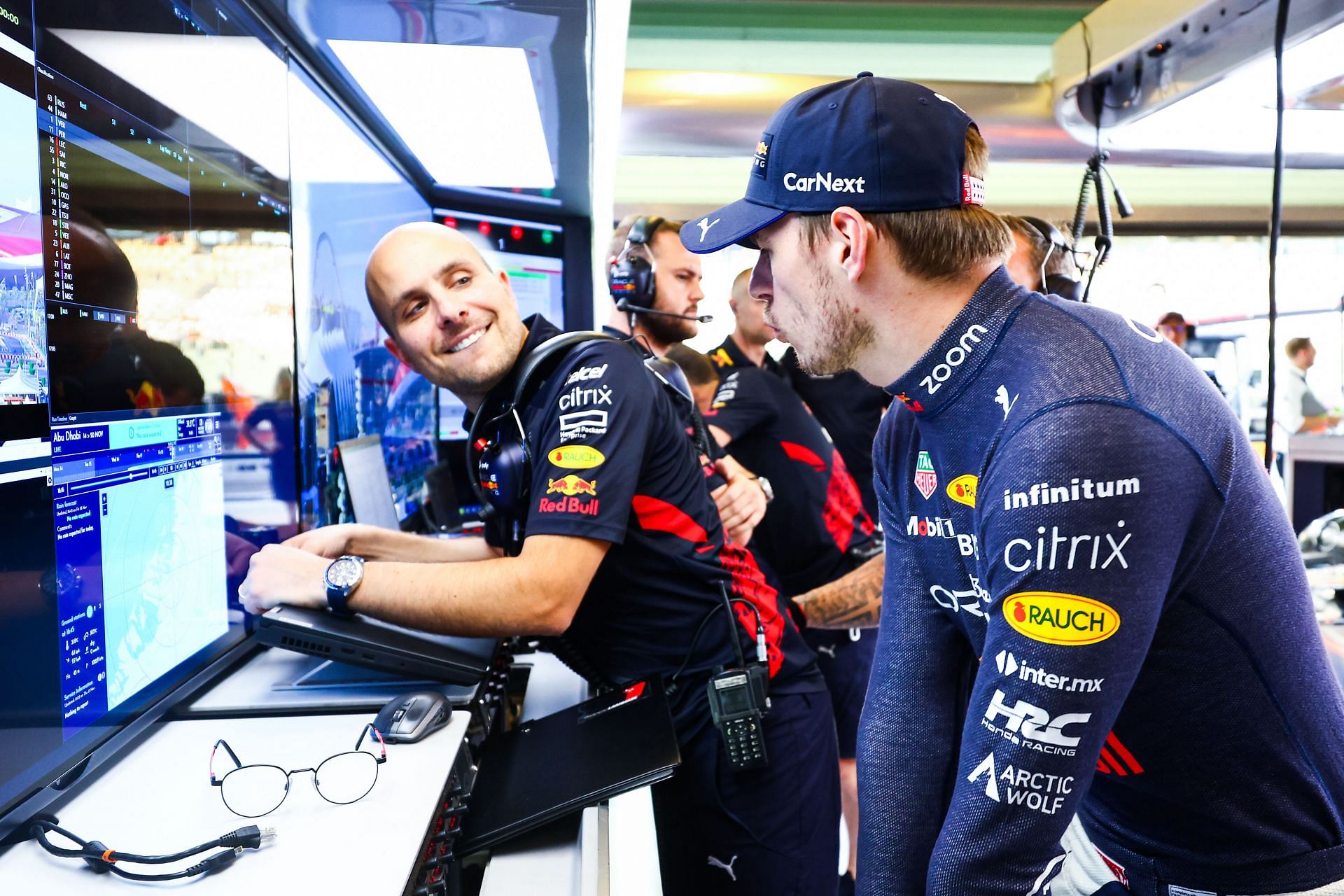 Max Verstappen's Red Bull race engineer Gianpiero Lambiase has been a crucial part of the Dutchman's racing career so far. The British engineer has been working with Verstappen ever since the young driver made his debut for Red Bull in 2016.
Born in London in 1981, Lambiase is one of the most successful engineers in the sport, having helped both Verstappen and Red Bull secure both titles in 2022.
Funnily enough, the engineer was previously an actor and musician who was reportedly the drummer for Torperstate, an indie band that finished runners-up at the MTV Unsigned Band Awards in 2003.
The British-Italian engineer was Giancarlo Fisichella's race engineer at Force India in 2008 and 2009 before jumping ship to Red Bull in 2014. There he served as Daniil Kvyat's engineer before the Russian was replaced by Verstappen in 2016. The duo were instantly a hit, with the Dutchman winning the 2016 Spanish GP on his Red Bull debut.
Despite his roots being vastly different from most in the field, the engineer has proven his worth on multiple occasions. Max Verstappen has even gone on record to say that he would leave the sport if Lambiase decided to retire prematurely.
Max Verstappen lauded by his race engineer Gianpiero Lambiase
Giampiero Lambiase claims Verstappen is really easy to work with and has a 'gift' for the sport. Lambiase has played a crucial role in helping the 24-year-old become the formidable driver that he is today.
The reigning world champion himself recently claimed that he can't see himself in the sport without Lambiase, who works behind the scenes, giving the Red Bull driver all the information and data he needs.
Michael Schumacher & Chris Dyer

Max Verstappen & Gianpiero Lambiase

Lewis Hamilton & Peter Bonnington

Ayrton Senna & Giorgio Ascanelli

One of the most important things for a driver is to have a good race engineer #F1 #Formula1 pic.twitter.com/xa4fyGsbme

— Kris van Ditshuizen (@KrisVanD2) November 4, 2021
GP has praised Max Verstappen's honest and open approach to racing, claiming the world champion has the perfect mix of an analytical yet natural feel for racing. Lambiase explained in the Red Bulletin Heroes Verstappen Edition magazine:
"The relationship between a driver and a race engineer is based on mutual trust. The more direct a driver is, the more he trusts the team. My experience is that if a driver stops giving his honest opinion about the car and starts circling it, the results get worse. Max is direct but so am I. That makes working with him very open, honest and easy."
Lambiase continued:
"Some drivers want to get to the bottom of the data, while others don't want to be involved at all. And then there's Max. He explains very precisely where he can push the car to the limit and what exactly he needs to drive faster."
"We always know what to do because of his instructions. A driver who can communicate clearly is a great gift. He has an incredibly natural feel for racing, coupled with a good analytical mind."
It will be interesting to see whether Max Verstappen makes good use of GP's experience in 2023 and is able to secure yet another title in the sport.