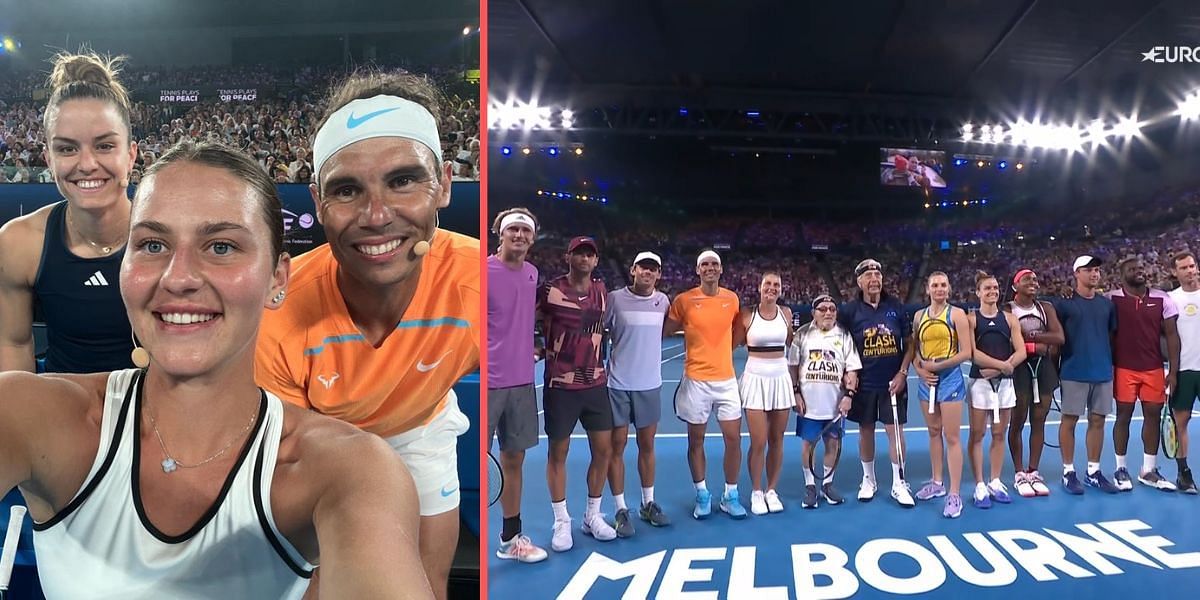 Rafael Nadal, Coco Gauff, and Frances Tiafoe participated in the Tennis Plays for Peace charity event organized by the Australian Open on January 11, 2023, in support of Ukraine during the ongoing war.
The star-studded lineup for the exhibition matches also included Andy Murray, Alexander Zverev, Maria Sakkari, Grigor Dimitrov, Alex de Minaur, and Ukrainian tennis players Marta Kostyuk and Dayana Yastremska.
The noble cause, hosted by wheelchair tennis legend Dylan Alcott, saw a full house turn up at the Rod Laver Arena and spectators witnessed some thrilling moments and great chemistry between the players.
Here's a look at five of the best moments from the Tennis Plays for Peace charity event.
---
Rafael Nadal teamed up with Ukraine's Marta Kostyuk and Greece's Maria Sakkari to represent the blue team against Alex de Minaur, Grigor Dimitrov, and Dayana Yastremska of the Yellow team.
The players took turns representing their respective teams in a doubles setting and Rafael Nadal provided exceptional entertainment.
In the first game itself, the players went all out and produced an incredible rally, with Marta Kostyuk producing a successful tweener and Nadal ending the rally with a trick shot against de Minaur.
At one point during the game, the 22-time Grand Slam champion cleverly played an underarm serve, which proved to be the smart choice as Dayana Yastremska was unable to return inside the court.
---
#2 The players met two of the oldest tennis players Leonid Stanislavskyi and Henry Young
The players also met Ukraine's Leonid Stanislavskyi (98), a Guinness World record holder for being the oldest tennis player, and Australia's Henry Young (99).
Rafael Nadal was seen interacting with the duo and also clicked a picture with them.
Frances Tiafoe and Alexander Zverev, meanwhile, were seen enjoying their time together as they hit the court with the inspiring pair.
---
#3 Coco Gauff produced an outstanding around-the-net winner
Coco Gauff, Andy Murray, Frances Tiafoe, and Alexander Zverev later entered the scene to join Marta Kostyuk and Dayana Yastremska in a game of tennis dingles.
Playing for the blue team, 18-year-old Gauff partnered with Murray against Zverev and Tiafoe and produced a noteworthy around-the-net winner in the first game.
---
Compatriots Frances Tiafoe and Coco Gauff came up with all the guns blazing and challenged each other. The Americans engaged in playful banter and stayed determined to win one particular rally
"Coco, I'll break you down," Tiafoe said.
"Yeah okay. I'll win this rally, bro. My backhand and your forehand? I'll take this all day," Gauff confidently responded.
Eventually, the teenager got the better of Tiafoe to force three break points on the blue team.