John McEnroe believes Carlos Alcaraz will certainly feel the pressure to stay at the top of the men's game now that he has reached there. However, the American tennis great said that the Spanish teenager needs to focus on his health and fitness, and most importantly, enjoy his tennis.
Alcaraz became the youngest year-end No. 1 in ATP history last season after winning the 2022 US Open. However, the 19-year-old's breakthrough 2022 — during which he won his maiden Grand Slam title, made his Top-10 debut, became World No. 1, and won a total of five titles — is now in the past.
Alcaraz will feel the heat of backing up his stellar season, now that expectations from him have increased multifold, according to McEnroe.
"We tend to talk about the crisis the year after and it's hard to imagine that it will not happen to him (Carlos Alcaraz), to some extent," McEnroe wrote in the 'Legends' Voice' column for Eurosport.
McEnroe further hopes that Carlos Alcaraz, who he calls an "extraordinary athlete" and "one of the biggest breathers" on the court, retains his love for the sport and maintains his fitness. The seven-time Grand Slam champion said:
"But what I hope, and this is the main thing, is that he continues to have this joy of playing, that he finds a way to preserve it and that he stays healthy. He's an extraordinary athlete and one of the biggest breathers on the circuit in the last 10, 15 years."
McEnroe went on to explain why Alcaraz will now have a different mindset on the court, as he will not only face outside pressure but also from within to emulate last season's success.
"When you have a target at your back and everyone is trying to beat you because you're the best, the mindset is totally different and not just for the opponents, for you too," the American tennis legend said.
Carlos Alcaraz's opponents will also have added motivation to beat the No. 1 each time they face him, as beating him is "more valuable" now, McEnroe stated. He said:
"This element of expectation and pressure that you put on yourself, and then the feeling of wanting to repeat what you have done, it makes everything much more difficult. Because now a victory against Carlos Alcaraz is much more valuable than a year ago, for everyone."
The former World No. 1 reiterated that while Alcaraz fine tunes his skillset consistently to be able to stay at the top, he needs to keep having fun.
"The key to getting there is to try to accept the idea that we are able to have fun anyway. And at the same time looking for ways to understand what it's going to take to stay on top," McEnroe expressed.
---
Having Juan Carlos Ferrero as coach seems like "a godsend" for Carlos Alcaraz: John McEnroe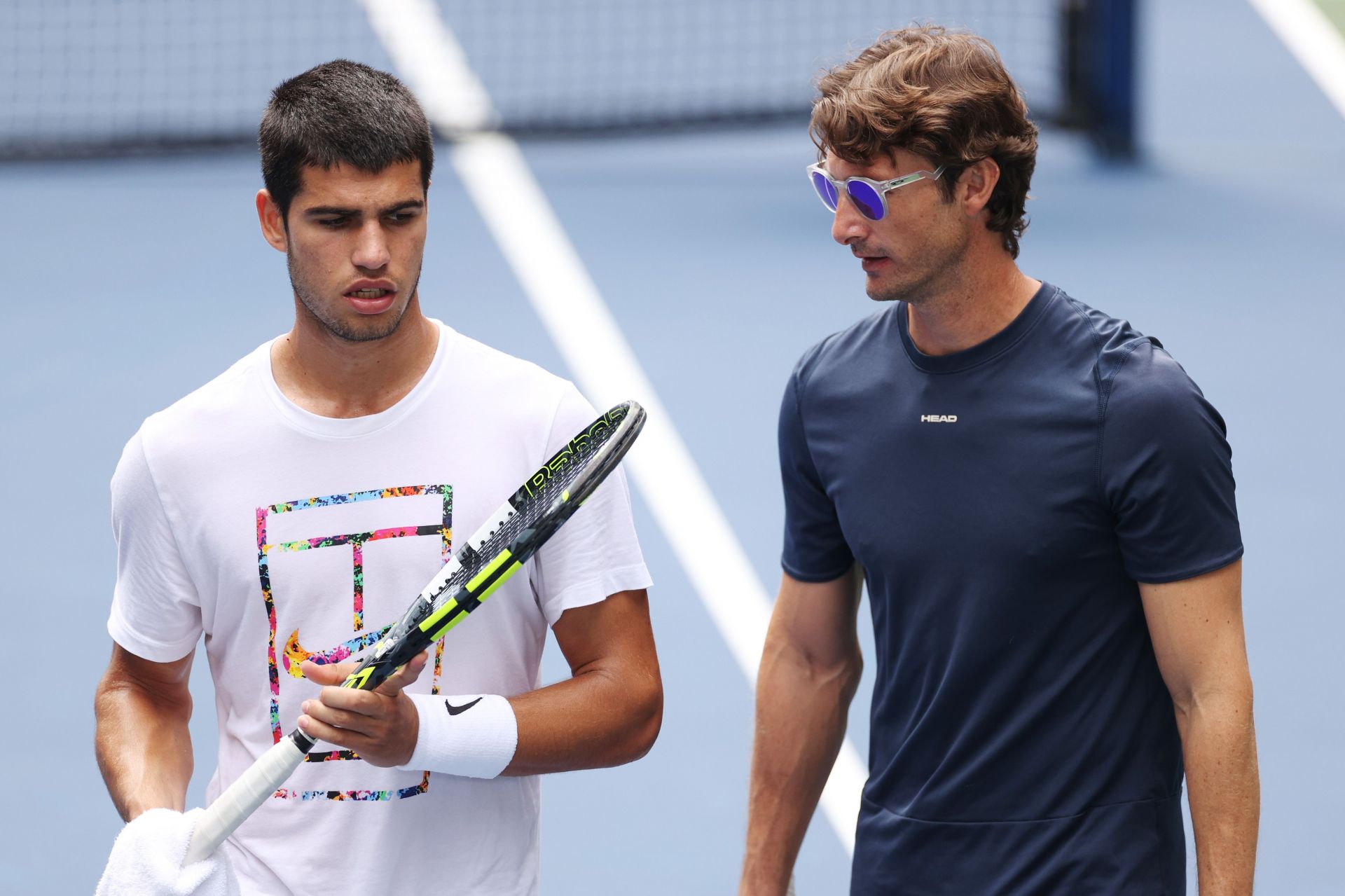 John McEnroe lavished more praise on Carlos Alcaraz, saying that the teenager already seems to have an "incredibly complete" game. It is no secret that it is also extremely crucial for a player to have a coaching team they feel quite comfortable with and can trust.
In that regard, Juan Carlos Ferrero's presence as Alcaraz's main coach is a "godsend" for the 19-year-old, believes McEnroe. The 4-time US Open singles champion stressed that Alcaraz "needs" Ferrero's continued presence around him.
"Carlos seems to have an incredibly complete game already, so he will hone his skills a little bit, both emotionally and technically, and then he will continue to believe in the team around him," McEnroe said on the same.
He added:
"Having Juan Carlos Ferrero as coach seems like a godsend for him, someone who understands what it takes to stay on top, in other words the guy he needs. It's going to be very interesting to see how he handles that."
Carlos Alcaraz was set to compete in his first-ever Grand Slam tournament as the World No. 1 at the upcoming Australian Open, before he was forced to withdraw from the tournament due to a leg injury he suffered in the pre-season. He could lose his top spot in the rankings at the end of the Melbourne Major.