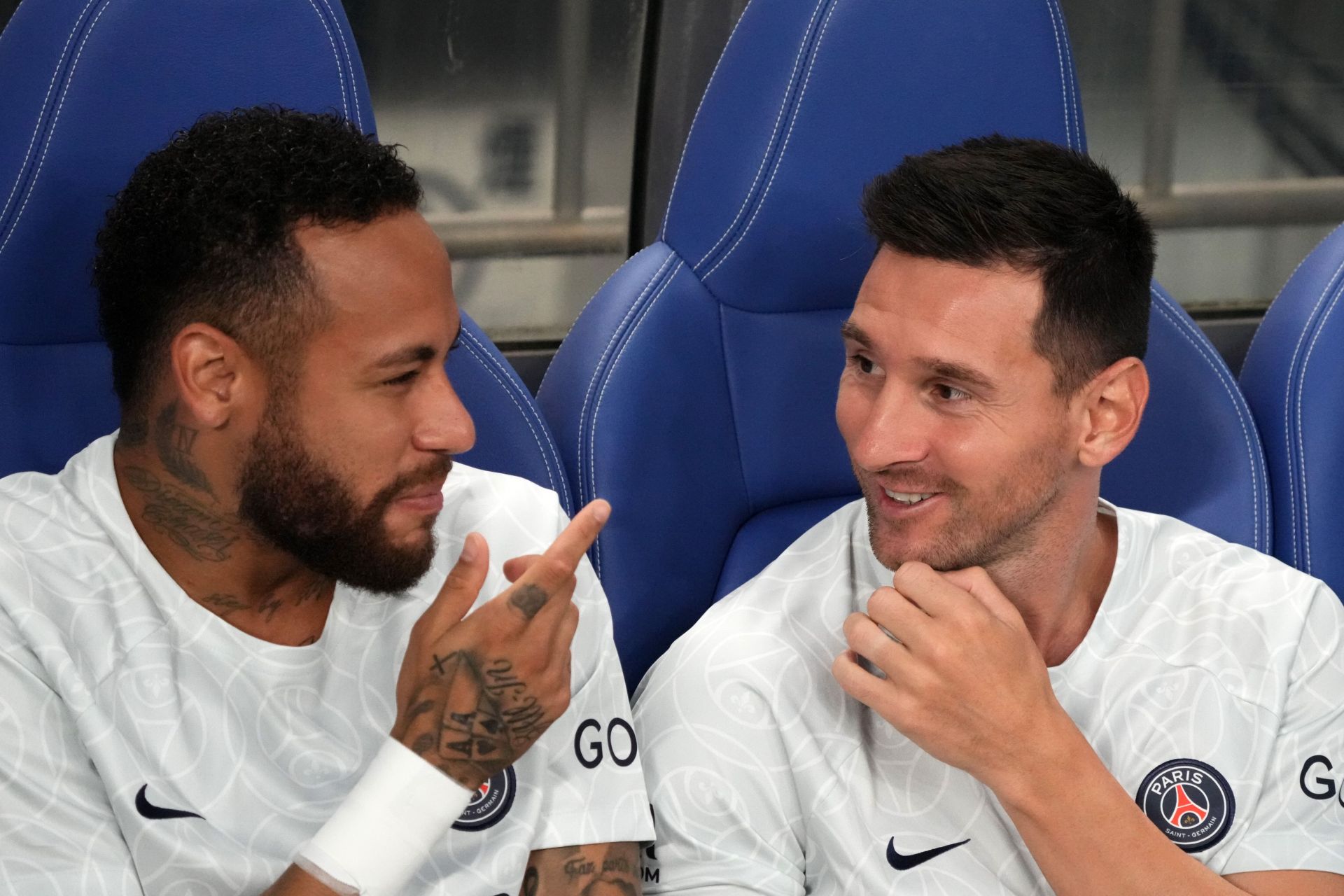 Lionel Messi and Neymar are expected to be back in the Paris Saint-Germain lineup when they face Angers at the Parc des Princes on Wednesday, January 11. The Ligue1 table toppers will be without Kylian Mbappe, while Achraf Hakimi is suspended.
PSG boss Christophe Galtier has confirmed that the former Barcelona duo are back in training, along with Marco Verratti and Renato Sanches. Young striker Hugo Ekitike is likely to be added to the mix today, with PSG's top scorer ruled out.
Galtier spoke to the media ahead of the match and said:
"Neymar, Lionel Messi and Marco Verratti are in training on Tuesday, as is Renato Sanches. Kylian Mbappe and Achraf Hakimi are absent. The return from vacation of the two men is expected in the middle of the week."
Expected PSG starting XI: Gianluigi Donnarumma, Nordi Mukiele, Marquinhos, Sergio Ramos, Juan Bernat, Warren Zaïre-Emery, Danilo, Vitinha, Lionel Messi, Neymar, and Hugo Ekitike.
---
L'allenatore del PSG Galtier sul nuovo contratto di Leo Messi: "Ci sono trattative in corso, il nostro consiglio ha discusso con Messi del nuovo contratto – non so di più" 🔴🔵🇦🇷 #PSG

"Vedo Leo molto felice qui a Parigi, quindi vedremo la sua posizione sul progetto del club". pic.twitter.com/LADXqbSkK8

— Massimo0307 (@Massimo0307) January 11, 2023
When quizzed about Lionel Messi's contract, Galtier claimed he was not involved, but confirmed that discussions are going on behind the scenes.
"There are discussions, the sports management has exchanged with Leo on the subject of an extension," he said. "I do not know where it is. Leo seems happy to me in Paris. Afterwards, you have to see his position in relation to the project of the club. It's a subject I don't discuss with him."
---
"It's mainly a great opportunity for me" – Hugo Ekitike on playing beside Lionel Messi and Neymar
With Kylian Mbappe ruled out for the match against Angers, Galtier could turn to young striker Hugo Ekitike as his lead striker. The new signing has scored in his last two matches for the club and will be keen to make it three in a row.
He spoke about playing alongside FIFA World Cup winner, Mbappe and Brazilian superstar Neymar, saying that it is a great opportunity for him to share the field alongside these legends.
"That's it; I know them now," he said. "I can praise them, but we already know the players they are. I think it's mainly a great opportunity for me because it allows me to learn even if I don't necessarily realize it in training and it makes me a more ready player and you will soon see that on field."
PSG are expected to pick up a comfortable win on Wednesday as they are up against the bottom-placed side. The defending champions currently have 44 points under their belt from 17 matches, four points ahead of second-placed Lens.