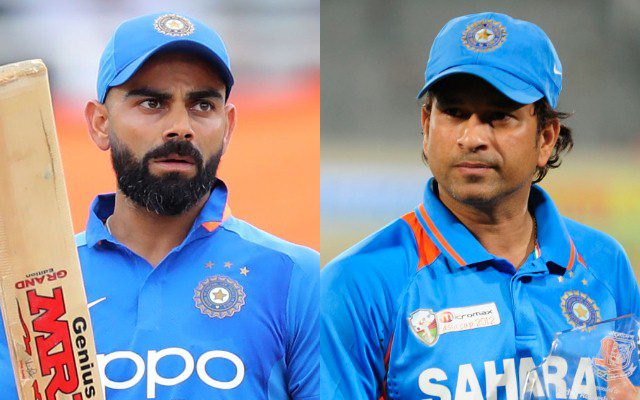 New Delhi: Virat Kohli smashed his 45th One Day International (ODI) century and became the claimant of a coveted titled owned by Master Blaster Sachin Tendulkar.
Virat Kohli, who returned to the Team India for first ODI match against Sri Lanka, hit his 45th hundred at the Barsapara Stadium in Guwahati.
The cricketer showed his fiery side after a long time and made a parallel with his idol and also the 'God of Cricket' Sachin Tendulkar.
With this century, Kohli has equaled the number of hundreds scored by any Indian at home. This was his 20th century at home. Batting legend Sachin Tendulkar had set this benchmark and was till now unbroken by any cricketer.
Kohli not just shattered the record of Master Blaster but also achieved this feat in less number of games.
With his stunning innings, Kohli is surely one of the finest and best batsmen of modern age.
Also, Kohli is closely following Indian legend's record of hundred 100th in both ODIs & Test matches. With this ton, he has already scored 73rd international ton and till now has 12500 ODI runs in his kitty, in just 257 innings.
Kohli's batting form was as much a dampener for him as disappointment for his fans. His 4-year run drought was too a difficult phase. His last ODI hundred at home was in March 2019, against Australia. But, with his fresh batting attack, first against Bangladesh & now against Lanka, his fans are in celebratory mood.
Another Sachin's record broken
Kohli also became the only Indian cricketer to have surpassed Sachin's record of hitting hundreds against Sri Lanka. Till now, Sachin's record 8 ODI hundred against Lanka was a benchmark but that got broken today with Kohli's 9th against the Islanders.