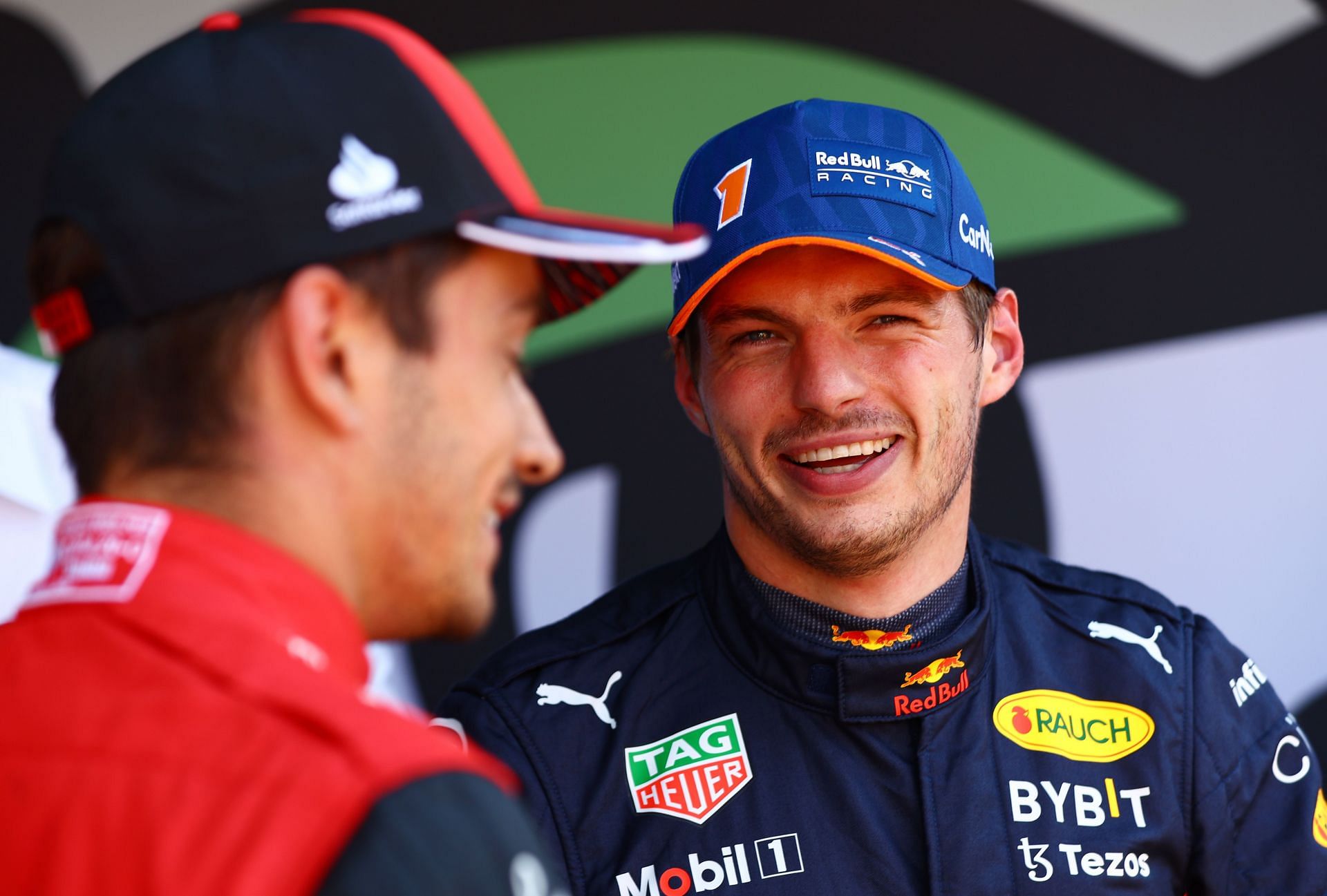 Max Verstappen was quite surprised at the points gap between him and Charles Leclerc after winning his second world title in the 2022 F1 season. After a slightly tough start to the season where the Dutchman faced some reliability issues, he dominated the rest of the season. Meanwhile, Leclerc kept lagging due to strategy mishaps and other issues from Ferrari.
Speaking to Motorsport, Max Verstappen expressed his surprise at the gap between him and Charles Leclerc. In a way, he wanted Leclerc to stay in the title fight so that he could have more battles with him. He further delved into how Red Bull were not great on several race weekends, yet they were able to pull such a massive gap.
The two-time world champion explained how intense the 2021 F1 season was compared to 2022, saying:
"If you look at how close the cars were, it's a bit surprising to have such a big gap anyway. There weren't many weekends in which we were really dominant. But I mean, at the end, I'm pretty happy with how everything turned out, especially after the season I had last year [2021]. It's not always good to have that kind of fight every single year. And I do think next year, everything will be closer anyway."
Later on, Max Verstappen also spoke about how the teams will get closer in the 2023 F1 season. When asked about how Helmut Marko, Red Bull's advisor, believes Mercedes will strike back next season, Verstappen agreed and said:
"Yes, for sure. They [Mercedes] will be in it."
Mercedes struggled quite a lot in the 2022 F1 season with several aerodynamic issues, one of them being porpoising. It is safe to say that both Mercedes and Ferrari will be working hard to take the fight to Red Bull in 2023.
---
Max Verstappen on maintaining his weight and muscles
Max Verstappen recently revealed how he struggles to keep his weight on the limit and also mentioned how Nyck de Vries and Alex Albon maintain their weight and muscles.
Speaking to Viaplay F1 Talks, the Dutchman said:
"Some [drivers] are lucky with that, some can eat what they want, but they then have to train a bit more to keep their muscles. Once you know what your body needs, that's how you have to train it. I know because I speak a lot with Nyck [that] he has to train a lot to keep his muscles, because if he doesn't train for a few days or a few weeks he loses a lot of muscle. It was the same with Alex, he has to use quite a few protein shakes just to keep the muscles."
"For me, it's the opposite. I don't really lose a lot of muscle and I never really have a lot of issues with driving a car, but I struggle more with just keeping my weight on the limit."
F1 drivers have a specific window in which they need to maintain their weight. Along with that, they need to build enough muscle to drive blazing-fast F1 cars on track.