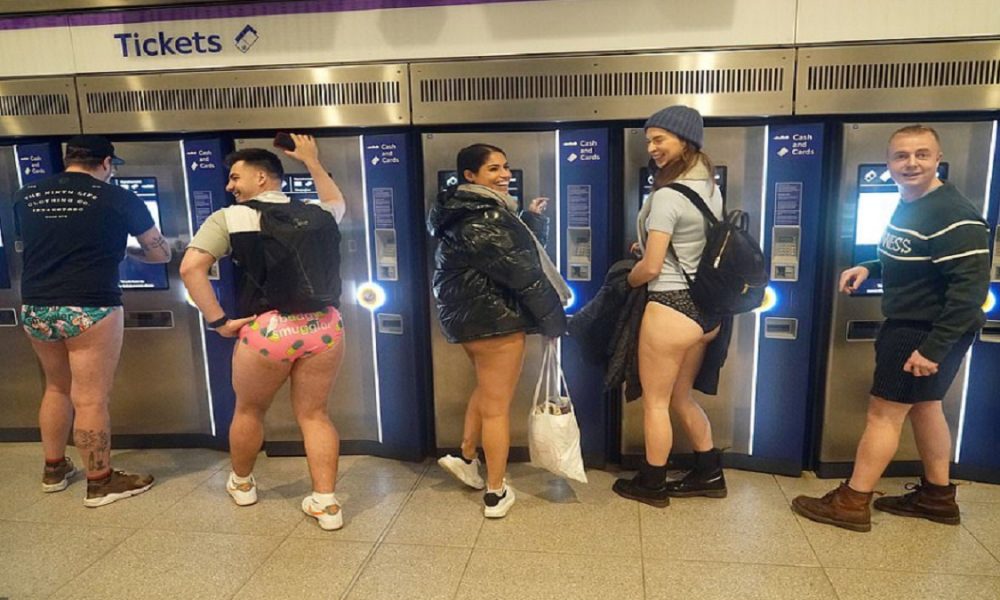 New Delhi: While the winter chill throws life of gear across the globe, residents of London are living a normal life, rather having a gala time – enjoying the Metro ride in their underwear.
Hundreds of Londoners can be seen, having stripped off their pants down to underwear and walking around with broad smile on their faces.
If you are wondering what is this for, it's part of annual celebration where Londoners brave the winters & walk out of their homes wearing just an underwear. While on top, they are fully & elegantly dressed in tie & long coats but the bottomline is that you have to sport only briefs & undergarments.

In pictures inundating the social media, you can see partially disrobed people walking across London tube stations for a happy journey to office & other destinations.
Notably, this was the first No Trousers Day and marked a return after 3-year hiatus after Covid-19 pandemic.

The purpose behind the No Trousers Day is to make people insular to chilly conditions and feel like it's just another day. Though, you can sport socks & shoes but can't wear pant or trousers.
Custom began 20 years ago
The No Trousers Tube Ride began about 20 years ago and since then it has turned into a celebration day as people let their hair down and throng the streets in all sorts of fashionable & trendy underwears.
When this started 20 years ago, it marked the beginning of a festive time. Even this year, thousands of travelers went trousers-free and took a ride to Elizabeth Line.
Some reports suggest that all this took off for the first time in 2002 in New York city. It started with 7 people, abandoning their trousers and taking a ride in Metro. The absurdity soon became a rage and now being celebrated in many countries. This has become an annual event and is being celebrated in at least 60 cities of the world today.