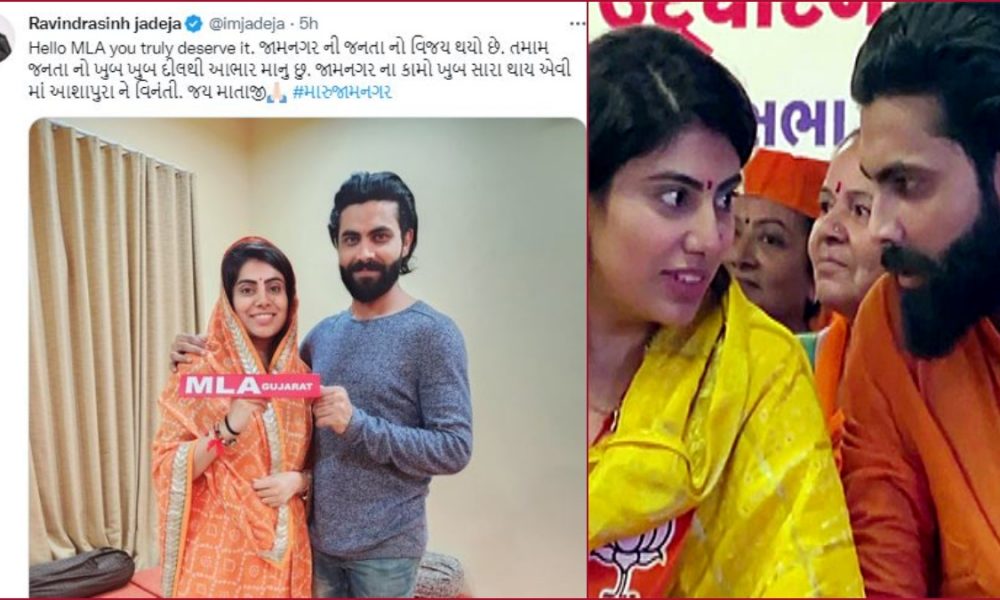 New Delhi: As the counting of votes for the Gujarat Assembly election was declared on December 8 (Thursday), Cricketer Ravindra Jadeja's wife Rivaba Jadeja made an impressive performance after winning the Jamnagar North constituency by 53570 votes.
According to the Election Commissions record, Rivaba, BJP's candidate from the Jamnagar North constituency won with over 57 per cent vote share.
The Election Commission after the 17th round of voting said Rivaba Jadeja had won 88110 votes while her nearest rival from Aam Aadmi Party -Karshan Karmur polled 34818 votes.
Ravindra Jadeja's Post For Wife Rivaba
Taking to Twitter, Cricketer shared a picker of himself with his wife and wrote "Hello MLA you truly deserve it. "
During the campaigning for Gujarat Assembly Elections 2022, Ravindra Jadeja participated actively for his wife, and he also met Prime Minister Narendra Modi ahead of the first phase of the Assembly elections.
In Jamnagar North, Ravindra Jadeja campaigned and supported his wife Rivaba, while his sister Naynaba Jadeja campaigned for the Congress.
Gujarat voted in two phases, December 1 ad December 5.